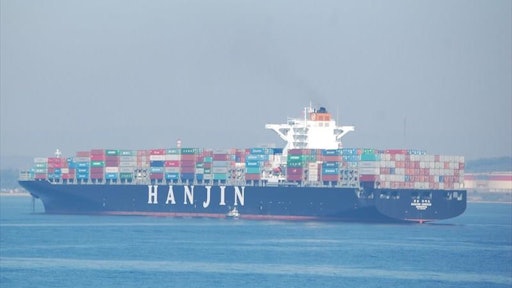 A portion of the $14 billion in cargo trapped at sea by the bankruptcy of Hanjin Shipping Co. Ltd. began moving out of one California port Monday, and a second ship received orders to head to dock, after the turmoil created by the South Korean company's collapse.
Truckers began moving freight from the Hanjin Greece, one of roughly a dozen of the company's ships destined for the U.S. West Coast, out of the port of Long Beach Monday, following a U.S. bankruptcy court's grant of protection.
A second ship, the Hanjin Boston, received orders to unload at the Port of Los Angeles on Tuesday morning, according to the Marine Exchange of Southern California, a group that tracks cargo ship traffic.
The collapse of Hanjin under debts of $5.5 billion has caused havoc in global trade networks and a surge in freight rates. Some vessels have also been seized.
To read the full story, please click here.