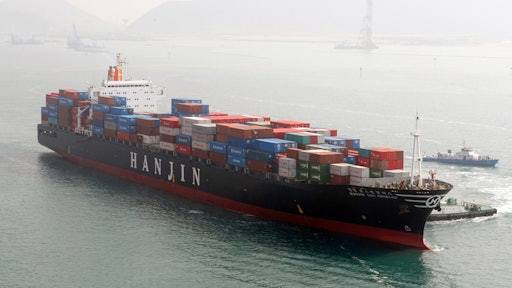 The fallout from the historic bankruptcy of one of the world's biggest shipping lines, Hanjin Shipping, continued with little resolution with as much as $14 billion worth of cargo stranded at sea, according to "The Wall Street Journal," sending cargo owners scurrying to try to recover their goods and get them to customers. Since Hanjin's bankruptcy protection filing, dozens of ships carrying more than half a million cargo containers have been denied access to ports around the world because of uncertainty about who would pay docking fees, container storage and unloading bills. Some of those ships have been seized by the company's creditors.
As Bloomberg adds, 85 Hanjin ships have been effectively marooned offshore as ports in the U.S., Asia and Europe have turned the company's ships away. The worry is that Hanjin ships won't be able to pay port fees or their contents might be seized by creditors, which would disrupt port operations. The global shipping disruption comes just as companies are shipping merchandise to fill shelves and warehouses for the end-of-year holiday season.
Recently, South Korean authorities rushed to piece together a capital injection. Hanjin Group will provide 100 billion won ($90 million), including 40 billion won from Chairman Cho Yang Ho, to help contain disruptions in the supply chain. At the same time, South Korea's ruling Saenuri Party asked the government to offer about 100 billion won in low-interest loans to the shipping line if Hanjin Group provides collateral, in what is effectively a government-funded loan.
Some have calculated that the funding package won't be enough: South Korea's Ministry of Oceans and Fisheries estimates Hanjin Shipping needs more than 600 billion won to cover unpaid costs like fuel, including about 100 billion won immediately for payments such as to port operators to unload cargo from stranded ships.
To read the full story, please click here.