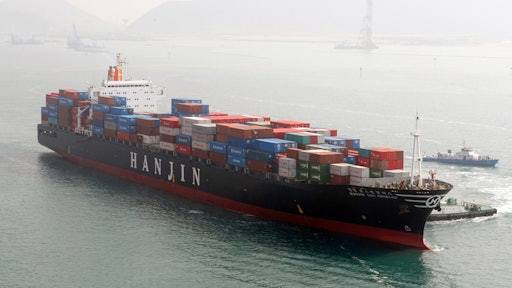 The collapse of Hanjin Shipping will probably spark fresh consolidation among container lines as they attempt to ride out the shock waves buffeting the industry, Hapag-Lloyd chief executive Rolf Jansen said.
"A lot of people hadn't expected the difficulties for Hanjin in the magnitude we have seen them," he said. "It will change behavior," with some participants now assessing whether it might not be better to "team up," he said.
Hapag-Lloyd, Germany's No. 1 carrier, which used mergers to bring down costs and counter the slump that has shaken shipping for the past eight years, does not plan to buy the Asian company or any of its vessels, now stranded at sea and various ports across the globe. Hapag-Lloyd is busy completing its merger with United Arab Shipping, headquartered in Dubai, which it aims to do by the end of this year. "We better make a success of that first," Jansen said.
Hanjin's demise is disrupting global supply chains as stores in Europe and the United States stock up for the Christmas shopping season. While the gain in freight rates after the collapse may boost Hapag-Lloyd's revenue "a bit" this month and next, that alone will not trigger a sustained recovery in the industry, Jansen said.
To read the full story, please click here.