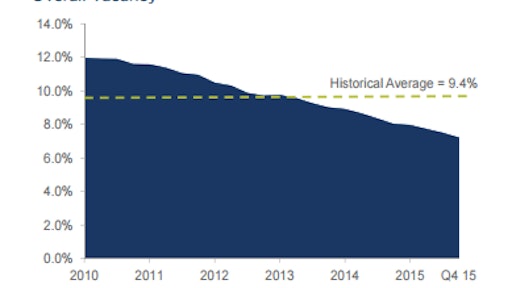 New York—April 24, 2016—U.S. industrial markets absorbed 57.8 million square feet (MSF) of space in the first quarter of 2016, up 9.3 percent from the first quarter a year ago, according to Cushman & Wakefield's first quarter industrial report.
This marked 24 consecutive quarters of positive net occupancy gains for the sector, placing the current expansion among the longest on record. It is also among the strongest. The U.S. industrial market shed over 182 MSF of occupancy during the economic downturn, but it absorbed more than 990 MSF in the expansion. The national industrial vacancy rate continued to decline in the first quarter, falling by 20 basis points (BPs) from the prior quarter and 70 BPs from the prior year to 6.1 percent. Industrial vacancy is currently tracking at the lowest level of the past 30 years and is now a full 240 BPs below the 10-year historical average.
Kevin Thorpe, Cushman & Wakefield's chief economist, says the outlook for the industrial sector remains promising and he expects 2016 to be another year of strong growth.
"Going forward, the demand drivers for industrial remain firmly intact," Thorpe said. "Much of what drives demand for industrial space links to the U.S. consumer, and by most measures, the consumer is feeling confident and spending. With the U.S. economy now showing signs of shaking off the first-quarter blues and with the U.S. consumer on solid footing, the outlook for industrial demand remains robust. Our forecast calls for 2016 to be another year where net absorption surpasses the 200 MSF mark and, considering all that transpired in the first quarter, we are well on our way."
U.S. industrial rents increased 3.8 percent in the first quarter compared to a year ago. Industrial rents increased in 68 of 79 markets tracked by Cushman & Wakefield from the first quarter of 2015 to the first quarter of 2016, with over one-fifth of the country now reporting double-digit gains. In many markets, industrial rents are now either at their historic high or quickly approaching it, and on a national level, we are witnessing rental rate appreciation for every industrial product type.
John Morris, executive managing director of Logistics & Industrial Services for the Americas, also expects continued growth for the industrial sector and notes that shopping fulfillment-channel migration to e-commerce is giving rise to a net new user, supporting industrial fundamentals.
"Logistics is becoming a competitive service business focused as much on shipping direct to customers' homes as shipping to brick-and-mortar stores," said Morris. "Increasingly, businesses are doing their own e-commerce and basic branded companies are trying to guide their businesses more online. The transformation that branded companies are undergoing themselves—developing a direct relationship with consumers—is expected to lead to significant requirements for new industrial space across the country."
On the development front, 51.7 MSF of industrial product was delivered in the first quarter with the majority of deliveries coming online in major industrial markets and primary inland distribution hubs. Developers continued to break ground on more speculative projects in many markets. In the first quarter, speculative projects under construction totaled 109.9 MSF, comprising 62.5 percent of the total 175.8 MSF currently under construction.
"Construction is certainly ramping up, but it remains well below what we observed at the peak of the last cycle," said Jason Tolliver, Cushman & Wakefield head of industrial research, Americas. "During the period of 2004 to 2009, we saw the delivery of over 776 MSF of product. Compare that to this expansion, where from 2010 to 2016, we witnessed 566 MSF of deliveries and historic absorption, and it shows that nationally we aren't overbuilding yet. We believe leasing activity should keep pace with new construction in the majority of markets over the course of 2016."
In the first quarter of 2016, the top 10 strongest markets in terms of demand for industrial space were Dallas/Fort Worth, with 6.8 MSF of absorption; central New Jersey, with 5.1 MSF; Chicago, with 3.9 MSF; the Inland Empire, with 3.7 MSF; Atlanta, with 3.3 MSF; Detroit, with 2.8 MSF; the Pennsylvania I-81/I-78 Distribution Corridor, with 2.7 MSF; Philadelphia, with 1.5 MSF; greater Los Angeles, with 1.4 MSF; and Phoenix, with 1.4 MSF.
Among the tightest markets in terms of overall vacancy included Denver and greater Los Angeles, at 2.2 percent; Orange County, at 2.8 percent; San Jose, at 3.0 percent; East Bay, at 3.2 percent; Cincinnati, at 4.2 percent; Milwaukee and Portland, at 4.8 percent; Miami, at 4.9 percent; and Detroit, at 5.0 percent.