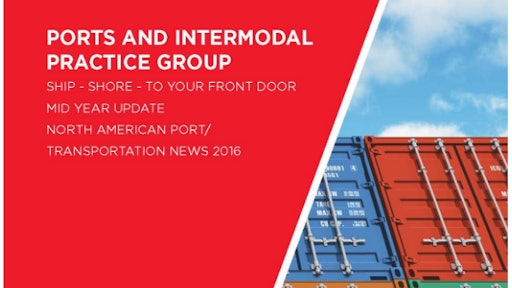 The goods distribution industry is in a state of controlled disruption, according to a mid-year update on North American ports and transportation published by Cushman & Wakefield's ports and intermodal practice group. "Ship, Shore, to Your Front Door" outlines that sector's ongoing transition and the resulting opportunities.
Well-documented challenges and shifts, such as marine terminal closures, driver shortages, new ocean carrier alliances, Panama Canal issues and others, are creating an increasingly complex environment. Yet, according to Cushman & Wakefield's Kevin Turner, Society of Industrial and Office Realtors (SIOR), global logistics specialist (GLS), who leads the ports and intermodal practice group, across the supply chain, there is light at the end of the tunnel.
"Times are changing," he noted. "Stakeholders are charting a new way forward with automation, supply chain transparency, new port labor contracts, technological advances, congressional support and stabilizing fuel costs. Occupiers and landlords are positioning with logistics partners to increase profits and delivery metrics, alleviating supply chain bottlenecks with scalable real estate solutions."
The report features over-the-road, intermodal and ocean carrier news and statistics. Highlights include an overview of the first automated marine port operation at the Long Beach Container Terminal and an in-depth look at the emergence of inland ports as engines of development nationwide. These logistics hubs combine containerized rail intermodal and trucking interchange with warehousing and distribution activity—offering virtually everything found at a seaport except for ships and saltwater.
The ports and intermodal practice group is part of Cushman & Wakefield's industrial brokerage platform, which provides global resources and local expertise for tenant and landlord representation, disposition and acquisition services, transaction management and industrial consulting, including labor and demographic analysis. In 2014, the industrial group completed more than 8,200 global industrial lease and sale transactions, including capital markets transactions, totaling nearly 337 million square feet with an aggregate value in excess of $16.8 billion.