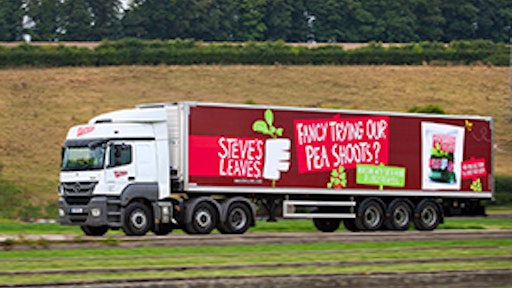 Miami—Nov. 27, 2013—Vitacress, a grower, packer and distributor of salads, is replacing its transport fleet and improving environmental performance through a five-year contract hire deal with Ryder.
Ryder is delivering a total of 29 new trucks and five new trailers to Vitacress. The order includes 24 tractors (of which 10 are 44-ton Mercedes and 14 are 38-ton DAFs), as well as three 26-ton trucks from DAF. In addition, Vitacress sold its former fleet of 28 fridge trailers to Ryder and is leasing them back.
The Vitacress fleet is using Microlise telematics technology to improve driver safety and increase fuel efficiency. The Microlise system provides drivers with live feedback and a series of alerts to help them maintain optimum performance levels on the road.
Vitacress' Hampshire-based fleet covers nearly 2.5 million miles a year, distributing to customers from southern England to Scotland. The transport operation encompasses farms, packing centers, distribution centers and airports.
As part of the contract hire agreement, Ryder is carrying out routine maintenance and repairs at its Newbury depot, coordinating activities around the company's busy day-to-day operations. A fitter from Ryder visits the Vitacress depot at St. Mary Bourne, near Andover, during working hours, as part of the contract.
Vitacress distribution and logistics manager, Kelly Fraser said, "Vitacress has set itself high sustainability targets. The new fleet and Microlise telematics system will enable us to improve environmental performance whilst enhancing our service to customers."
Companies in this article