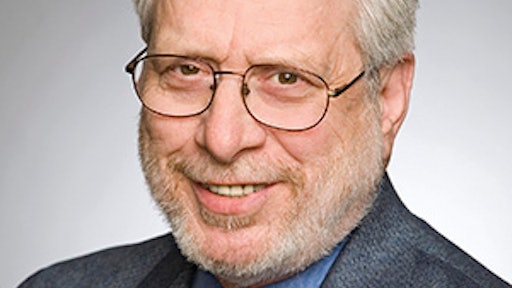 More than two decades ago, the giants of the shipping industry started using mobile technology to track the progress of their shipments and deliveries. These were huge, proprietary systems that required sophisticated software and handheld devices. Until recently, the scope and cost of this type of system meant that only the largest providers could afford to implement the technology. However, the proliferation of smartphones—which are now in the pockets of nearly every American—is bringing a technology revolution to the smaller freight forwarders that have traditionally lagged behind in this area.
People in our industry have a tendency to lean on traditional modes of communication, preferring to accomplish everything with paper and phone calls. However, in order to compete in today's technology-driven society, many smaller companies are now aiming to be completely paperless. Today, it is possible to create an app that can be downloaded to any phone—one that serves the same purpose as the proprietary handheld devices used by FedEx and UPS.
At the same time, new scheduling and tracking systems are allowing freight companies to improve the experience of online shoppers, responding to some common concerns of Internet retailers.
The Communication Gap and Buyers' Remorse
There are a couple of requests that we hear routinely from our customers in the Internet retail space, the most important of which was helping to close the communication gap. In our niche, we're not dealing with small orders, like an item of clothing or a tablet. Rather, we're dealing with large items, and with those large items can come a large price tag. Typically, when someone shops on an Internet retail site, they click on a big-ticket item—like a television or piece of workout equipment—take it to check out and pay for it … and then there is silence. There is often little or no information communicated from that point on. The only way to get information is for the customer to go back to the site and see that their order was processed. But what does that mean to the buyer? Nothing.
Retailers found that, when a person makes an expensive purchase of a large item, they are subject to buyer's remorse— an Internet company's Achilles' heel. When a customer has no idea where their order is or when it may arrive, the purchase doesn't feel concrete. The longer this goes on, the more time that person has to change his or her mind about the order. To eliminate buyer's remorse and improve customer retention, the industry needed to embrace and utilize technology to tighten up the post-purchase communication gap.
Closing the Gap
Simply put, the consumer wants to know where their television is and when it will be delivered. Technology available today and being used by companies like ours can solve this issue by implementing a scheduling system to ask the customer to set up a delivery appointment at the time of purchase. This can be done in a seamless manner, without the consumer knowing they left the retailer's site. At this point, the customer is able to pick a date and time that works best for him or her, and is simultaneously being worked into our scheduling system in a window of time that coincides with our drivers' schedules and routes.
So now we are able to get our customer's customer what they want—a confirmed date and time to expect a delivery—and we have also been able to help out our customer by tightening the communication gap and solidifying the sale. This is the type of thing that can drive significant growth for a small Internet retailer who can't afford high rates of returned purchases and customer dissatisfaction.
Improving Delivery Efficiency: There's an App for That
The major challenges with any delivery, particularly when dealing with consumers, are efficiency, timing and customer care. Not too long ago, the collecting of one payment on delivery (POD) involved, at a minimum, four people: the driver, the dispatcher to manually record the date and time, a station employee to scan the signed copy, and a quality assurance (QA) employee to visually inspect the document. The driver was given a manifest or a stack of bills to get signed, hopefully receiving all of the information he needed, hopefully not losing a bill along the way. Any update to the route meant multiple calls between the driver and dispatcher, creating multiple points of failure in which information could get lost, misinterpreted, stuck, etc.
All of this back and forth was cumbersome and inefficient—but necessary at the time. Today, smaller companies can create robust mobile applications that can simplify and streamline the entire process.
For example, Pilot Freight Services created an app that our drivers use, which puts all of the information they need in their pockets, on their mobile device. Now, drivers aren't worried about scrambling around in the truck for the right papers or checklists, but instead are focused on the care of the package they are delivering. The operator at headquarters isn't worried about taking calls regarding signed and delivered packages, because that information gets sent back to the system instantaneously. Instead, they can concentrate on taking calls from customers and serving their needs.
Being able to eliminate paper, phone calls, and the constant back and forth has allowed us to truly focus on what matters. We have cut down on the cost of human error because all shipment entries, shipment updates, and invoices are taken care of the second they are complete and sent to us electronically.
In addition to improving the paperwork process, driver apps can determine the best delivery routes, taking into account the location of each drop-off, traffic, roads that don't allow trucks, etc. This optimization can mean savings in time, money and fuel, as well as the ability to give a customer a more accurate delivery window.
How This Helps Freight Forwarders
Most freight forwarders utilize a system of partners, making it more difficult to implement any universal technology measure that requires proprietary devices. However, advances in mobile technology allow us to not only streamline deliveries and go paperless, but to also perform like the big guys. Using an app system like the one we created—which can be downloaded by all of our partners' drivers on their own phones—allows us to track a package at every milestone, using universal barcodes.
Previously, it would be unrealistic for a freight forwarder to have that level of exposure once a shipment was transferred to one of a network of partners. But by using this technology, we ensure that it doesn't matter whether you're a Pilot employee or an employee of another carrier; you're able to still communicate with Pilot in a seamless manner.
What's on the Horizon?
We have seen more advances in technology in the last five years than in the 30 years before that—and I can only imagine what the next five years may bring. The freight forwarding industry lagged behind in utilizing technology, but there are no longer any excuses for not innovating and offering better services to our customers, and their customers in turn. The far-reaching availability of mobile technology sets a solid platform for an endless list of possibilities for shipping and logistics companies.
Even still, there is much more that can be done. In the industry as a whole, there is a lot of low-hanging fruit as far as information technology (IT) is concerned, but we now have the ability to take those opportunities and run with them. Technology has the potential to present a wide range of new opportunities for smart companies. But the time is now, because even though everyone is moving in the same direction, those who are innovating and are ahead of the curve may have the most success.