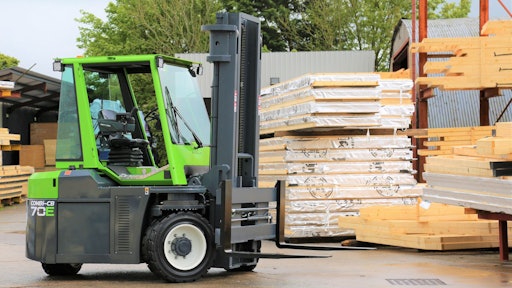 Combilift
Combilift celebrated its 25th anniversary with the launch of the Combi-CB70E, the latest addition to its range of electric-powered trucks.
"The increased capacities that we are offering in our electric range will answer the demand for ever more powerful products which at the same time help companies to achieve their aims for more sustainable operations. We are confident that the Combi-CB70E will be a popular addition to our portfolio for diverse industry applications," says Combilift CEO and co-founder Martin McVicar.
From Combilift:
The Combi-CB70E boasts the distinction of being the shortest 7t-capacity counterbalance truck on the market whilst also benefitting from multidirectional ability, enabling the versatile space saving handling of both long and bulky loads.

Design features include large super-elastic tires and compact wheelbase. With a 15,500-pound lift capacity, this model benefits from a small footprint as well as exceptional manouevrability, meaning that it can easily move bulky loads around in confined spaces.

The Combi-CB70E also features a gas strut suspension cab, which uses components such as those found in large scale industrial machinery with cab suspension.

Combilift's

newly developed Auto Swivel Seat automatically engages and swivels the seat and armrest 15 degrees to the right or left to accord with the direction of travel selected by the operator.
The truck also features

Combilift's

internationally patented and Red Dot-awarded independent electric traction, which provides all front and rear drive wheels with 100% traction control.