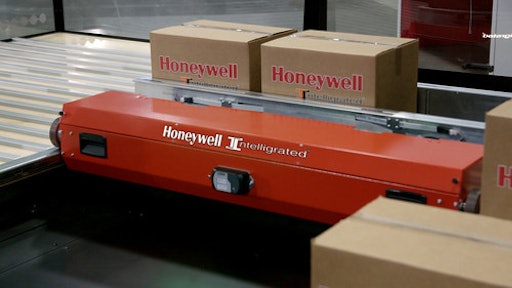 Honeywell
Honeywell's next-generation automated storage and retrieval system (AS/RS) leverages artificial intelligence and machine learning to allow warehouse and distribution center operators to better keep up with unprecedented e-commerce growth.
"The rapidly evolving retail market is pushing distribution centers to find and use innovative, flexible and automated approaches to e-commerce order fulfillment. Growing inventories, the rising cost of land and other pressures are pushing operations to make the most efficient use of available space," says Ben Cardwell, president of Honeywell Intelligrated. "Honeywell's next-generation AS/RS technology allows our customers to better utilize unoccupied vertical space, potentially eliminating the need for building or renting additional warehouse space."
From PR Newswire:
Honeywell's scalable automated solution maximizes floor space and helps efficiently manage more than 20,000 SKUs using high-speed shuttles with configurable end and intra-aisle vertical lift locations. Combined with Honeywell

Intelligrated's

Momentum Warehouse Execution System with Decision Intelligence, once an order comes to the distribution center system, the shuttle will retrieve goods from one or more aisles and deliver them directly to a goods-to-person station for order consolidation. The shuttle solution is ideal for operations that handle small cases, trays and totes.
"Distribution operators are now being asked to contribute more to overall business objectives, requiring managers to streamline processes, reduce costs and maximize the return on capital investments made in facilities," says Cardwell. "This technology delivers nearly a 40% increase in throughput over traditional picking methods, allowing labor to be used for other value-added tasks."