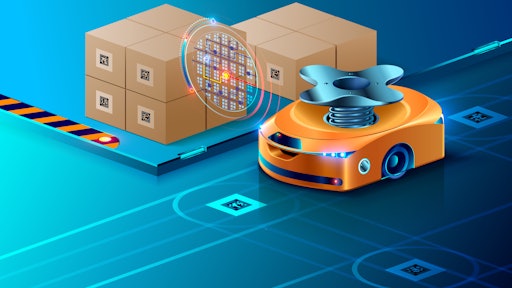 AdobeStock_244346143
During the Coronavirus disease (COVID-19) pandemic, consumers replaced in-person shopping with buying online. Eighteen months later, consumers are still clicking the buy button despite physical stores reopening. This heightened demand forces the supply chain to operate at peak production and impacts organizations' warehouse operations.
Online shopping increased 44% in 2020 compared to 2019. According to a recent study, 77.3% of the population purchased goods online in 2020 and experts expect it to reach 85% in the next three years. Although the pandemic forced millions of consumers to shop online for both essential and non-essential items last year, retailers predict consumers will prefer e-commerce as the method of shopping in years to come.
An increase in e-commerce and demand for goods has placed significant strain on the supply chain. Warehouse, distribution and fulfillment centers must alter and adapt to meet this elevated consumer demand. Many companies are turning to solutions, such as robotics and automation, to increase supply chain productivity and reduce dependence on labor and staffing. Others are utilizing existing storefronts as part of their inventory network to fulfill orders and increase the time to deliver.
Robotics and automation lessen warehouse strain
Consumer demand is playing a large role in the industry's ability to manufacture, fulfill and distribute goods, as are labor shortages. However, a warehouse that relies on spreadsheets to fulfill orders or staff to perform workflows can greatly contribute to the delay as well.
A recent Research and Markets report revealed that more than 80% of warehouses have no automation, while only 5% use sophisticated automation solutions. Leveraging warehouse automation solutions help warehouses increase accuracy and productivity, improve safety and reduce labor costs. Without, organizations risk a decrease in profit and the inability to meet demand.
Robotics and sensors are some of the most popular automation technologies warehouses implement. Technologies like RFID and pick-to-voice are often paired with these technologies to enhance automation capabilities. According to Gartner, the demand for automation and robotic systems in distribution and fulfillment warehouses will quadruple through 2023. Additionally, 50% of supply chain organizations will invest in software that supports artificial intelligence (AI) and advanced analytics capabilities, like warehouse management systems (WMS).
Companies require software that supports connectivity among all teams, departments and warehouses. Warehouses not equipped with the software and tools they need to increase throughput risk the inability to produce, fulfill and distribute products. Automation, robotics and real-time supply chain visibility via a comprehensive WMS allows industry leaders to make informed decisions for their organizations and increase productivity and efficiency.
Storefront fulfillment takes pressure off warehouses
A common metric companies use to determine distribution and fulfillment success is on-time shipping. In fact, Accenture research shows that 43% of consumers expect fast and free delivery on online orders (up from 40% last year), and seven in 10 (70%) of consumers say they could be enticed to shop in-store with one retailer over another if they were able to choose and pay for items in-store but have items delivered to their homes. Companies experiencing an increase in delivery time and unable to meet on-time shipping risk receiving negative reviews and losing valuable customers.
Demand and lack of products continue to impact shipping times across the globe. Freightos recently reported air, ocean and trucking delays increased in Q3 2021, with ocean-based shipments taking 83% longer than the previous year. As delays persist, retailers struggling to meet consumer demand can leverage existing retail space to fulfill orders and combat shipping delays.
Retailers can take advantage of in-store products to fulfill orders at a faster rate. Compared to air, ocean and trucking, the United States Postal Service (USPS) continues to increase its on-time delivery rate, citing a 10% increase compared to Q2 2021. Relying on in-store products, USPS delivery times and curbside pick-up capabilities can save companies from consumer backlash.
Supply chain will continue to operate at peak production
Accenture's 15th Annual Holiday Shopping Study found that holiday spending is likely to rise this year, with consumers planning to spend $598 this holiday season, on average, compared with $539 last year. Most (71%) consumers surveyed said they intend to spend as much or more than they did last year. The need for consumer goods will continue to burden the supply chain industry far past the holiday season.
In the interim, companies can leverage existing retail locations to fulfill orders and decrease time-to-ship. However, to meet ongoing consumer demand, companies must transform their warehouse operations and implement new technologies, such as automation, robotics and comprehensive WMS. While implementation can take time, industry leaders will experience an increase in productivity and ability to fulfill and distribute orders at a faster rate, regardless of labor shortages or product availability.