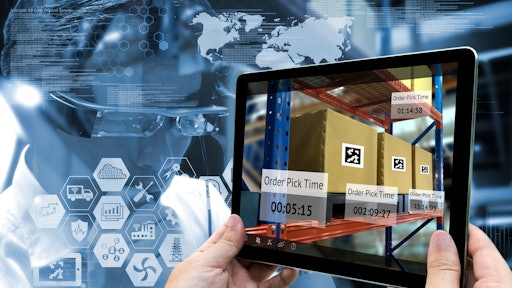 AdobeStock_127004310
With the holiday season upon us, the supply chain industry is entering its busiest time of the year. According to Deloitte, holiday retail sales are projected to increase between 7-9% in 2021 with e-commerce sales projected to grow by 11-15% year-over-year. While strong consumer spending is expected during the upcoming holiday season, supply chains globally face significant challenges in meeting consumer expectations of product availability and timely product delivery, including surges of the Delta Variant, labor and space constraints, natural disasters and more.
The current constrained labor market is making it even more difficult for warehouse and distribution centers to hire, train and retain workers to meet the expected demand. According to the U.S. Department of Labor, there are still 8.4 million unemployed and 10 million job openings. Nearly 52% of retailers said they have significant challenges hiring warehouse employees, according to a survey by Korn Ferry. This has led companies to lift average wages, increase overtime and provide bonuses. Companies are now also offering to cover the cost of tuition for staff pursuing their bachelor's degrees. The industry is also grappling with the challenge of making the work environment safer. In this tight labor market, it is imperative that the supply chain industry take steps to make their operating environments safer driving employee satisfaction and retention.
Demand for logistics real estate continues to reach record high levels as retailers boost inventory levels to support the holiday season demand and protect against supply chain distortions. Tight market conditions – lack of supply, increasing rents – are now projected to persist through 2022 and beyond.
Finally, in addition to severe labor and space constraints, the supply chain faces increasing supply delays and higher freight costs, spurred by bottlenecks at ports along with natural disasters that delay delivery trucks and planes.
As labor, space and transportation constraints and strained supply chains add tremendous pressure on warehouses to meet demands, it is more critical than ever for warehouse operators to ensure the general productivity, efficiency and safety of warehouses ahead of the expected holiday season boom.
Warehouse spatial intelligence (WSI) solutions are a new category of supply chain software solutions that have emerged to address these urgent market needs by capturing and analyzing spatiotemporal data to provide operational visibility and increase warehouse productivity, efficiency and safety. This new spatiotemporal approach combines unique spatial and real-time data (precise indoor location, HD images, videos and advanced sensors) with advanced cloud-based analytics to gain actionable insights and automate decision-making without human intervention.
As the holiday season emerges, WSI solutions can immediately enable logistics and warehouse operators to increase workforce productivity, asset utilization, space utilization, transportation efficiency and worker safety.
Increase workforce productivity and asset utilization
WSI solutions have now been demonstrated to increase workforce productivity by up to 30%. For example, for every 100 workers, the operator gains up to 30 more workers. WSI solutions allow precise and cost-effective monitoring of KPIs such as travel time, distance traveled per line, zone and aisle-level activity per worker and assets (e.g. forklifts, pallet jacks, etc.). Automated analytics enables operators to implement efficient routes, optimize scheduling and assignment of tasks. Real-time analytics and alerts can help the operators and supervisors to act quickly and adapt their shift/daily plans to achieve their goals.
Optimize warehouse layout
WSI can be used to track routes, generate aisle and shelf-level heat maps and analyze congestion to optimize warehouse layouts, reduce congestion and drive increase space utilization. Integration of WSI with warehouse management systems improves slotting and inventory placement through intelligent recommendations to improve warehouse-level productivity. WSI-based recommendations to relocate just a small percentage of high-frequency items have been shown to significantly increase picking efficiency.
Increasing loading dock efficiency
WSI solutions can substantially reduce truck dwell time and increase dock-level efficiency with dock-level visibility across the entire warehouse. This allows better tracking of truck arrival and departure times across the facility allowing for reduced costs through tighter dwell time limits and more. WSI solutions allow accurate tracking of resources utilized at the loading dock providing actionable insight into dock-level resource allocation, scheduling and utilization.
Improve safety
Nobody has time for hiccups in the supply chain this season, but the reality is companies are being forced to rush their hiring and onboarding processes during the holidays, leading to many seasonal workers who are not trained properly, decreasing overall facility safety. Real-time location data and heat maps provide comprehensive congestion analysis – a crucial function to gain better visibility of workers, assets, and vehicles moving within the warehouse. In doing so, warehouse operators can improve routing and movement. Moreover, when integrated with forklifts, WSI can assess and enhance driver behavior, as well as create alerts to prevent unsafe forklift and worker interaction.
While WSI solutions sound like a thoughtful, cost-effective approach to addressing the supply chain demand, how long does it take to deploy and start seeing results?
With the commoditization of battery-operated wireless sensors, HD cameras and cloud-based services, the deployment and use of WSI are more cost-effective and scalable than ever. Upon deployment, warehouses can be up and running in a few weeks and reap the benefits within a month.
By prioritizing optimization, warehouses will experience increased worker productivity and retention, safety enhancements and streamlined operations moving into the New Year.
Companies must rethink their supply chain models starting at the warehouse to keep up with consumer demand and boost profitability. However, the demand from the pandemic and the holiday season will not be alleviated come January 2022. If anything, the new year will bring even more challenges to the supply chain, so there's no better time than now to invest in easy to deploy and cost-effective WSI solutions that will guarantee improved productivity, efficiency and safety.