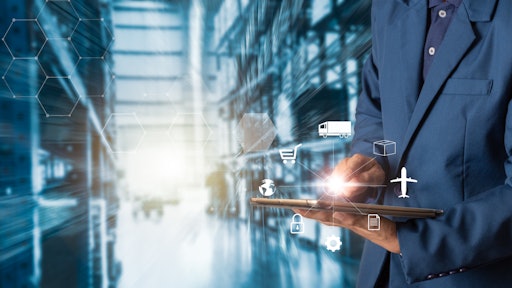 Getty Images
The Coronavirus disease (COVID-19) pandemic has only exacerbated many of the ongoing challenges that face warehouse operations, such as the struggle to hire and maintain staff and constantly updating and complying with workplace regulations and safety requirements. At the same time, working in a warehouse is physically demanding, and a lot of time and effort is put into preventing and mediating the effects of performing repetitive activities for long stretches of time. In addition to these labor management issues, supply chains are becoming more complex as the industry faces increasingly complicated inventories, SKU proliferation, labor shortages and customer demands for fast, accurate fulfillment, with the e-commerce market at an all-time high.
In today's challenging environment, more and more businesses are turning to technology and investing in warehouse automation solutions to ensure continued business success. In fact, by 2026, the global warehouse automation market is estimated to surpass $30 billion.
However, actually exploring and evaluating warehouse automation systems can seem overwhelming, and it can be difficult to know where to start. While adopting advanced technology is often the solution, it can come with unexpected complexities, such as requiring a certain level of expertise to learn and manage the tool. External experts can help identify and prioritize the various issues that need to be addressed, either in the short-term or long-term. But, as an initial first step, the following considerations are helpful to keep in mind when looking to invest in automated solutions.
1. Omnichannel challenges. Order picking is often considered the most complex and dynamic of all logistical workflows. Multiple and constantly changing distribution channels present a major challenge, as many retailers struggle to support multiple business-to-business, business-to-consumer and online distribution channels simultaneously. Time is also a huge factor when it comes to manual order picking for a growing assortment of goods for different omnichannels. At the same time, warehouses and distribution centers are facing increasing problems with labor and scarcity. An automated order picking solution, for example, can address the complexity of several different delivery channels.
2. Receiving efficiently. Many organizations are dealing with the increasing intricacies of processing incoming goods. Seemingly simple tasks, such as checking shipments against purchase orders for quantity and quality come with their own unique challenges. That is why putting in place an efficient receiving system can be difficult due to a range of issues. Shipment sizes, for example, are becoming more varied, and the variety of products is rapidly expanding. In addition, the receiving process is under constant pressure as product assortments grow, inventory reduces and there are shorter lead times for outbound orders. Floor space restrictions and transportation restraints are also growing issues. An automated receiving process can help minimize the complexity of the receiving systems while simultaneously improving the outbound processes.
3. Optimize storage. Efficiently managing bulk storage can be a challenge. Storage facilities are now routinely facing higher product variety and stock turnover and finding space for a growing range of products requires time-consuming re-organization efforts. Space restrictions have become such a constraint for facilities that, according to a survey by Zebra, 87% of industry decision-makers surveyed are either in the process of or planning to expand their warehouses by 2024. And serious safety problems can incur when the demands of increased throughput are restricted due to the real problem of forklift trucks getting congested. Putting in place automated storage solutions can help improve the performance of storage areas through space-saving, labor efficiency and increased throughput.
4. Improve outbound. Growing logistical complexity is a serious and ongoing issue for many facilities. Transportation constraints, and limited floor space and loading bays are major challenges that create the need for "just-in-time" processes in distribution centers. In addition, product lines and order structures are increasingly complicated, while simultaneously the process speed, quality and transparency are only intensified by diverse customer needs. Every stage, from preparation to delivery, is mission-critical and workers are under intense pressure because there is no room for error. And with significant expenses in shipping and the high expectations of the "shopping experience," even minor mistakes can be costly and impact customer satisfaction levels. As warehouses and distribution centers face these challenges, automated packing systems, mobile devices, voice-directed technologies and advanced goods-to-person solutions are all options to consider. They not only relieve some of the burden on workers but can also help bridge the gap for warehouses facing labor shortages.
Along with these considerations, another factor to keep in mind is timing. Over the past several months, the impact of the COVID-19 pandemic on the supply chain industry has exposed a range of existing challenges facing warehouses and distribution centers, and for many, it's no longer a matter of if, but when they plan to make facility upgrades. Automated solutions are designed to tackle many of those challenges, including the ability to help reduce cost, complexity and downtime across the organization, as well as manage the rapid changes and scalability warehouses are seeing in their supply chain. And, whether it's a small, initial improvement in one area or a full-scale system expansion and retrofit, the benefits of accessing vital knowledge and resources generated by adopting automation technology provides an incomparable competitive advantage. An investment in warehouse automation technology not only sets a business up for success today but prepares it for the future.