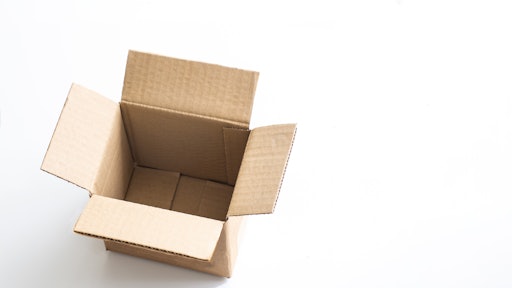 Getty Images
It's no secret order packaging is getting harder to maintain for shippers. Not only do DIM weight rates continue to rise, finding workers to fill packaging roles is becoming even more difficult.
Warehouses and distribution centers have workers nearing retirement age and not enough new workers to fill their positions. Customers have also started posting videos on social media calling out companies for not being environmentally conscious and using oversized parcels loaded with air bags, bubble wrap and paper. Because of this and the continued e-commerce growth, shippers are looking for a solution to fix their packaging woes.
One new technology that has recently gained popularity within the industry is automated packaging solutions.
While these systems have been in different warehouses before, Amazon brought new attention to them after it announced that it began implementing these systems into their supply chain is enough to convince any shipper to start looking into these innovative packaging solutions.
These state-of-the-art systems measure, construct, seal, weigh and label each order in a custom-fit parcel in as little as seven seconds using only one operator. Some will also auto-box single or multi-line items as well as produce parcels for soft or hard goods without any additional equipment or operator needed. This proven auto-boxing technology generates highly effective packaging and optimizes all steps of parcel fulfillment while saving on labor, shipping and material costs. These systems can also be utilized in a variety of industries, including e-commerce, retail, third-party logistics (3PL), wholesale and manufacturing.
While these solutions meet many of today's shippers' biggest pain points, they can be a costly addition to any warehouse or distribution center.
Before integrating an automated packaging solution into the supply chain, companies must evaluate their current packaging process. It is important to complete a return on investment analysis, paying special attention to the labor and shipping material costs. Shippers should also note the length of time it takes to manually package each order. During this step, it will be clear where the areas of improvement are and how automated packaging solutions reduce costs and optimize the supply chain.
Once finished with the evaluation of the current packaging process, shippers should also research the automated packaging solutions currently on the market today. While many offer better efficiencies to order fulfillment, not all are the same.
Shippers must pay attention to the volume reduction needed at the warehouse and what the solution offers. For example, automated packaging solutions can be broken out into three categories:
Each solution has benefits as well as pitfalls.
1-Dimensional solutions feature parcel volume reduction by height. The systems automatically measure the height of the tallest item in the order and cut and fold the parcel onto itself to create a reduced-volume box. A packing slip or invoice is then printed and placed onto the parcel, and a custom-lid is formed and glued to close the parcel. Then, a shipping label is applied.
This solution allows for increased automation in the warehouse and reduces labor costs. It also reduces parcel sizes for lower DIM weight and freight costs. However, the 1-Dimensional solution only reduces volume, leaving length and width untouched. This doesn't offer complete volume reduction. The parcel structure also doesn't keep items safe during shipment so void fill materials are still required, adding to shipping material costs.
2-Dimensional solutions reduce parcel volume by length and height. These are excellent packaging solutions for single-line products, such as books and games. As these items move down the system, corrugated material is measured and cut to the length of the order. The solution then automatically seals the parcel with glue, or the package is manually sealed. A label is then printed and applied.
This solution creates a smaller volume size since two dimensions were reduced. There is also lower labor and packaging materials costs as less operators and shipping materials are needed. However, 2-Dimensional systems can't handle multi-line orders and the material may not be strong enough to eliminate damage to the order during shipping. It also doesn't fit expansive order size ranges or adjusts for different widths, requiring manual packaging in the warehouse.
3-Dimensional solutions optimize parcel volume reduction on every axis. After placing an order in the system, the order is scanned to analyze the size of the order's item(s). Then a custom-fit parcel is created using the smallest length, width and height required. A packing slip or invoice can also be added before the system closes, seals and labels the parcel for shipping.
This solution greatly reduces DIM weight and eliminates void fill, creating an environmentally conscious package. The materials are also able to be re-used for any returns. Fit-to-size parcels have also been proven to cause less damage to goods during shipping, ultimately reducing returns and customer complaints. By creating the smallest parcel possible, shippers can fit more parcels in each trailer, reducing shipping costs and their carbon footprint.
After identifying the automated packaging solution that best fits your specific warehouse, it is time to see the machine in action. While visiting other shippers, ask to speak to the warehouse manager to learn more about the system. They will be able to share how the automated packaging solution has streamlined their supply chain as well as offer tips on implementing the solution.
After determining which solution will be best for the warehouse, the supplier will assist with implementation to be sure it is up and running smoothly. Shippers that have already been using the 3D automation packaging systems have seen a full return on investment in less than a year. Other companies, like Amazon, have been able to eliminate at least 24 roles in the packaging department, allowing associates to work in other departments, like order picking. Once the automated packaging solution is integrated into your warehouse, customers will benefit from faster order fulfillment times and less damaged goods, while the company will experience extreme savings on shipping and material costs in addition to reduced packaging labor costs.
Steve Brandt is the North American Director of Automated Packaging Solutions at Packaging by Neopost. With over 20 years of industry experience, Steve is passionate about helping distribution centers relieve their daily packaging challenges with automation. Prior to joining Neopost, Steve held multiple executive positions with Dematic, where marketing and customer service were his primary focus.