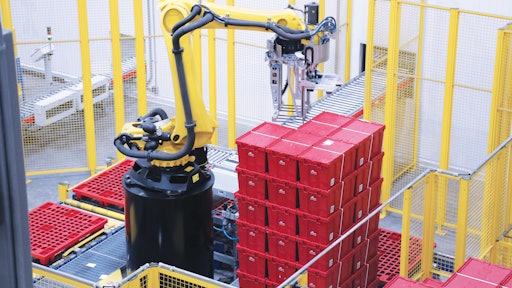 When it comes to supply chain services, McLane Company, Inc. is in a league of its own. With its humble beginnings as a small retail grocer in the 1890s to its growth as a global logistics leader, McLane brings a plethora of innovative supply chain solutions to its customers. Many of us have a convenience store we frequent and chances are good it's a McLane customer.
What makes the company unique in the marketplace? Shawn Coots, division president for McLane, says the company is one of the largest supply chain service leaders for convenience stores, mass merchants, drug stores and chain restaurants throughout the United States.
"We service approximately 110,000 retail locations with the ability to deliver to every zip code in the continental U.S.," says Coots. "McLane offers a diverse SKU mix, allowing our customers to purchase in pallet, case and single-sell quantities. Our technology and years of expertise offer best-in-class service to all McLane customers."
Hand-in-Glove Partnership
Because McLane offers such a diverse mix of products to its customers, it must be capable of picking, loading and delivering efficiently. Hence, a unique partnership exists with SSI SCHAEFER to execute effectively for its customers. McLane has collaborated with SSI SCHAEFER on two DC projects—a DC in Republic, Missouri, and a new, fully automated DC in Findlay, Ohio.
"As with any customer of SSI SCHAEFER, our clients become our partners in automation," says Christoph Schenk, CEO for North America, Schaefer Systems International, Inc. "We're there to ensure that our clients can supply their customers on time while exceeding expectations. We strive to help our customers achieve an advantage in their industry with superior logistics value."
With its DC in Missouri reaching capacity, McLane had specific requirements for its greenfield facility in Ohio. McLane needed a DC that could accommodate various storage requirements for both case and individual storage, provide multi-temperature zones, enable case pick validation and accomplish automation throughout the entire system.
McLane has been an industry leader for 125 years and is consistently pushing the envelope to utilize best-in-class warehouse, delivery and customer technologies, says Coots.
"When McLane Ozark was opened in 2012 utilizing SSI SCHAEFER technology, we quickly realized that full automated warehouses could provide long-term benefit for the organization for many years to come," he says. "McLane Ohio took additional leaps forward in technological advancement for McLane by adding robotic palletizing for full case products and mini-load cranes for additional storage flexibility. The ability for product verification throughout the warehouse provided an additional rationale when making the decision to build McLane Ohio."
Automation at Its Best
How does the Ohio facility meet McLane's wholesale and distribution objectives? Coots says that the SSI SCHAEFER system allows McLane to select and automatically palletize full case products of pallets for expedited loading ability. This is critical to delivering efficiently to multiple customer locations on a route. The heart of the McLane system is WAMAS®, the WMS solution from SSI SCHAEFER.
The WMS keeps goods flowing in a sequenced manner, explains Schenk. An array of goods is picked in a methodological order. This enables goods to flow just in time for picking so that they are automatically palletized and placed in reverse stop sequence for McLane deliveries.
"WAMAS orchestrates all of this and understands the order processing, whether it is a mixed pallet or full pallet—it takes the data for the delivery routing and sequences everything based on this key input," says Schenk. "It even knows where to section the goods based on frozen, perishables and ambient products inside the truck."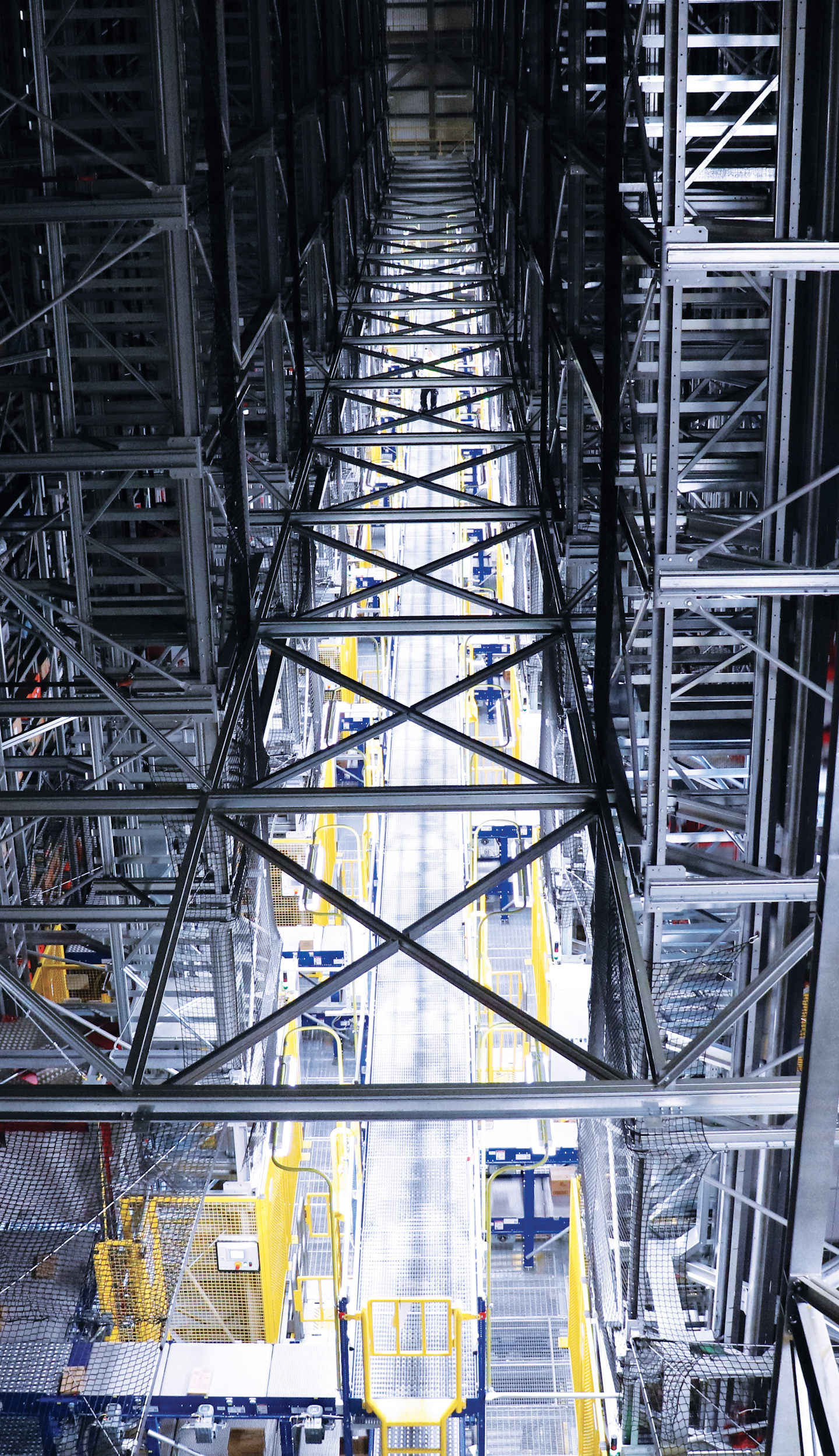 An inside view of the McLane case picking area.

The Ohio facility also includes nine SSI EXYZ pallet storage and retrieval cranes. These cranes manage received goods into the facility as well as stock balance between full pallets and deliverable goods. Schenk says pallets are moved from the SSI EXYZ cranes to replenishment areas and to the shipping area for full pallet case picking. The cranes achieve maximum efficiency for McLane by making these efficient pallet movements at the correct moment as directed by WAMAS.
"WAMAS plays the role of orchestra director for all data inputs (orders, inventory and the like) and system movements (automation). The best sequencing is only possible when the automation and software systems work together in a dynamic way," explains Schenk. "The WMS receives the order history and picks products for the following three or four days. The system then balances all system areas based on the correct timing for deliveries. Cases are delivered by the case picking area to the palletizing robots. This is where SSI SCHAEFER proprietary vision technology validates the order by length, width, height, GTIN and SKU."
Schenk says once the pallets are completely loaded and verified, each pallet is placed in a staging area in front of the correct loading bay. "Again, WAMAS indicates the correct truck and in what order. From there, each truck is loaded and the forklift driver confirms each pallet in the WMS while loading."
Built for the Future
Coots says the Ohio facility innovates and enhances McLane's business operations and services for today's and tomorrow's customers. A key component of best-in-class service is the ability to deliver customer orders on time and with virtually error-free order quality.
"The SSI SCHAEFER automated system provides state-of-the-art vision technology, advanced robotics and an integrated user interface that helps assure order quality and departure times are maintained," says Coots. "The flexibility of the system allows for a controlled operation regardless of spikes in seasonal ordering or inventory storage fluctuations. "The McLane Ohio facility was built for expansion of the automated systems. Today, we have the flexibility to scale for customer demand; but if we get close to capacity, we'll look at expanding the automation systems in the future," says Coots. "Until then, McLane Ohio will continue to service our customers quickly and accurately."