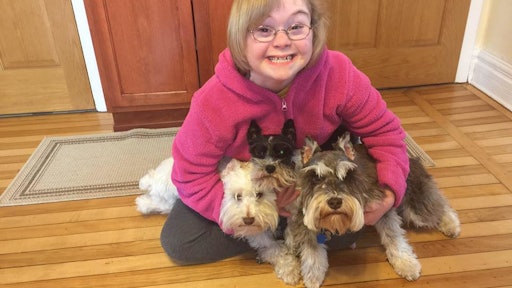 Gracie's Doggie Delights
Broadway veteran Harvey Fierstein took to Twitter one morning sharing a link to Gracie Doggie Delight's, a dog-treat company that makes 100 percent of its products in the United States. His message was simple but strong: "Where we shop can change the world."
The woman behind Gracie Doggie Delight's, Grace Jagler, is only 22 years old, but started a successful business out of the basement of her home in Watertown, Wisconsin. Each month sees sales growth, with nearly 1,500 orders placed throughout the United States. Starting a new business is challenging for most people, but she does this all successfully while having Down syndrome.
Finding Grace's Passion
When Grace was in high school, she showed an affinity toward dogs. John Jagler, her father, says that she loved giving her rescue dogs treats and enjoyed spending time with her pets. He explains that the city's high school requires special needs students to enroll in school until age 21, with the last few years focused on vocational training.
"We were looking at the options in the community [where Grace could work] and there wasn't anything that matched her interests," John says. "We thought about what she's passionate about and knew that dog treats were always a point of interest."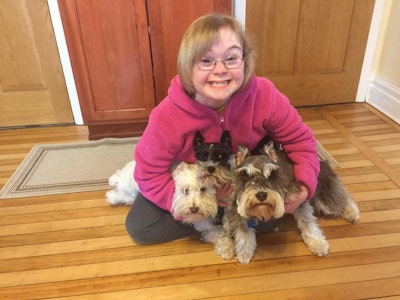 The Jagler's thought that Grace would work at Glenn's Market & Catering, a meat market in their city, labeling products. However, it occurred to John that they could produce and market dog treats on their own. He contacted Glenn Roberts, the market's owner, about using the store's weight scale and negotiating a wholesale price for the dog treats.
"After we got a deal [the Jagler family and Glenn's Market & Catering], we built the website and we were off and running," John says.
Building the Business
Gracie's Doggie Delights debuted in February 2016, when she was just 19 years old.
"It's been great watching her grow over these last three years," John says. She has a lot of confidence and knows that she's the boss."
The treats are no easy feat to make, though. John explains that the meat is freeze dried raw at Glenn's. Batches take 30 hours to prepare. Grace's treats are made to coincide with a raw feeding diet, so there are no additional chemicals added. John credits the success of the business to producing the type of food dogs would crave if they were in the wild.
Grace plays a major role in the business, restocking products every day and labeling orders for delivery. John explains that the family's phones are linked to their website to monitor online orders. Once an order is placed, it's packaged and shipped same or next day—exceeding customer delivery expectations.
"A lot of people are shocked that we can keep up with demand. Nothing gets shipped later than the next day and if a customer is a Watertown local, we will personally deliver the product," John says.
Most of their business comes from the online store; however, treats are stocked in stores across the Midwest. The business received a boost from Watertown's Piggly Wiggly after the store's owner saw how fast product was flying off the shelves.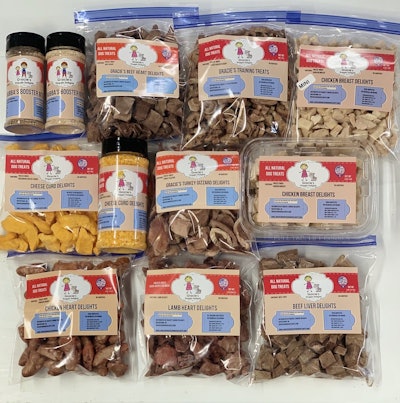 Packaging for the treats varies depending on where the order is placed.
"If we are delivering in person or through the mail, we'll use Ziplock bags to package the treats. It's what our customers like for ease of use and storage," John explains. "Our retail packaging, however, uses a heat seal for freshness and durability."
While their e-commerce presence remains steady, Gracie's Doggie Delights is also sold in various dog grooming and veterinary offices as well. John stresses how important it is to have industry professionals validate their products.
Keeping It Local
Still, Gracie's Doggie Delights is a startup. And like any new business, there are challenges that the Jagler family has had to face. However, John credits Grace and the rest of his family (his wife, Heidi; daughter, Sarah; and son, John) for willing to try anything and not being afraid to fail.
"A major reason we started this business was the lack of local companies hiring people with disabilities," says John. "It's almost bittersweet. While Grace is extremely successful, we had to create an environment for that success rather than a company opening that opportunity," John says. "There's a little bit of reluctance to hiring someone with a disability. There's a ripple effect to the benefits that [disabled] people bring to customers, the employees, and their jobs. We couldn't find a good match, so we made one. Most of the business is conducted from the basement of our home, with the goal of establishing a location where we can hire more employees with disabilities."
The main reason for Gracie's Doggie Delights' success is the quality of the product—not because of Grace's disability. John says first-time customers often buy the treats to support Grace. However, they become repeat customers after seeing their dogs enjoy the product.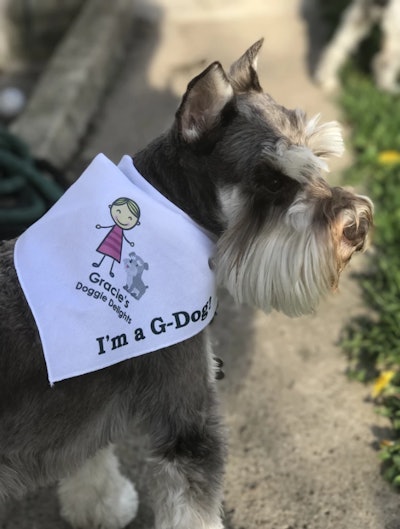 John says no matter how many emails the business receives from manufacturers outside the U.S., their products will always be made in the United States. As a local politician, he sees the benefits of American-made products and the impact it has on the economy.
"I can't tell you how many times we get an email that offers to make our product at a lower price," John says. "We often hear that as long as the product is packaged in the U.S., it's still a U.S-made product—and that's just not true. It scares me that some companies may fall into that model.
"It's vital we continue to source and make our products in the United States. It's good for our economy and it's good for people," says John. "When it comes to something as important as the health of your pet—or even yourself—you want to ensure the quality. We are able to do that by making the treats here."
Fierstein took to Twitter once again a week after his initial post, retweeting a video about Grace and continued to sing her praises.
"My dogs are loving every one of these. We bought the big sampler and I'm thrilled with it all," Fierstein said via Twitter.