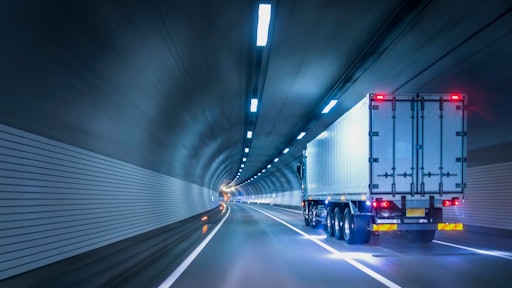 Getty Images
During a public listening session at the Great American Trucking Show, drivers and other trucking industry stakeholders voice their opinions in front of Federal Motor Carrier Safety Administration regarding the proposed changes to the hours of service rules.
Currently, HOS regulations allow long-haul drivers up to 11 hours of time behind the wheel each day and must stop driving after 14 hours. Also, a driver who will be on the road for more than eight hours must take a 30-minute off-duty break as well. In addition, drivers must have had 10 consecutive off-duty hours before going back on the road again.
FMCSA's proposed changes include:
Increase safety and flexibility for the 30 minute break rule by tying the break requirement to eight hours of driving time without an interruption for at least 30 minutes, allowing the break to be satisfied by a driver using on duty, not driving status, rather than off duty.
Modify the sleeper-berth exception to allow drivers to split their required 10 hours off duty into two periods: one period of at least seven consecutive hours in the sleeper berth and the other period of not less than two consecutive hours, either off duty or in the sleeper berth. Neither period would count against the driver's 14-hour driving window.
Allow one off-duty break of at least 30 minutes, but not more than three hours, that would pause a truck driver's 14-hour driving window, provided the driver takes 10 consecutive hours off-duty at the end of the work shift.
Modify the adverse driving conditions exception by extending by two hours the maximum window during which driving is permitted
A change to the short-haul exception available to certain commercial drivers by lengthening the drivers' maximum on-duty period from 12 to 14 hours and extending the distance limit within which the driver may operate from 100 air miles to 150 air miles.
However, drivers are now requesting that FMCSA allow them to divide their required 30-minute break into multiple, shorter breaks. Commercial Carrier Journal reports that instead of a 30-minute break, drivers should be allowed to take three 10-minute stops or two 15-minute stops to satisfy the requirement.
Drivers are arguing that the proposal would "encourage more movement throughout the day." Previously, Candace Marley would stop multiple times a day for shorter breaks, which often added up to more than 30 minutes. CCJ reports that she now drives for five straight hours before taking the mandatory break.
"I don't like it," Marley tells the crowd. "But I have to do it all the time. I need to move my legs every couple hours and not have to worry about that 30-minute break too. Let our breaks be broken up and accumulate those minutes."
Lewie Pugh, executive vice president of the Owner-Operator Independent Drivers Association, spoke one behalf of the group, saying that the 30-minute break should be broken up as electronic logging devices are able to record "every single solitary second."
The listening session at the Great American Trucking Show was the first of FMCSA's two planned ones, however, the agency could announce more during the 45-day comment period.
The public comment period ends Oct. 7, and comments can be filed here. FMCSA Administrator Ray Martinez encouraged drivers and other stakeholder to file comments as the agency will rely on them to develop the final rule for the HOS regulations. At the time of this publication, there is not a specific deadline for when the final rule to be finalized, however, it is likely that it will take several months.