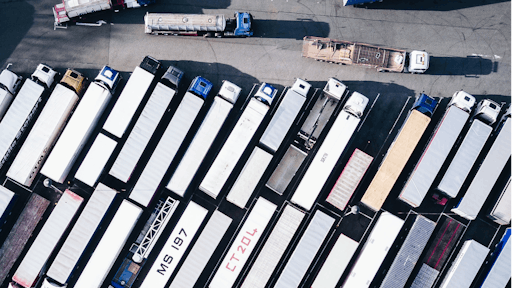 Nigel Tadyanehondo/Unsplash
President Donald Trump's blue-collar appeal is said to have played a major role in helping him win the 2016 election. His "America First" campaign promises targeted many sectors of the U.S. workforce, but were especially promising for the trucking industry.
During a 2017 trucker rally, President Trump, wearing an "I Love Truckers" pin climbed into the cab of Mack truck parked on the White House lawn before meeting with trucking CEOs to discuss his plans for the industry. He promised that America's truckers would prosper under his administration.
So how has the $700 billion industry, which employs more than 7 million Americans, fared since then? In a recent segment titled, "The Check In: Trump and Trucking," Seth Meyers pokes fun at several of Trump's policies. The sketch inspired us to explore where in fact Trump's campaign promises stand for the trucking industry.
1) Tax Reforms
Under the Republican Tax Cuts and Jobs Act of 2017, which was introduced in November 2017, Trump said that truckers would pay less and make more money. The elimination of a category of deductions, known as a per diem, that allowed employees of a company to deduct work expenses the company did not reimburse, however, caused many truckers to see an increase in their taxes this year.
In an interview with NBC News, trucker Richard Robinson says his taxes increased $8,000 in 2018.
"I have a young family at home, and we didn't meet the threshold to pay anything with our earning income credits and all. And with our per diem, they took the per diem out. The government says we can't have per diem anymore. That made an $8,000 difference in my taxes," he says.
Earlier this year, Democrats in the House and Senate introduced legislation that would reinstate the ability to deduct those expenses, but neither bill has come before a committee yet.
2) Trade War/Tariffs
The Trump administration has placed billions of dollars in tariffs on Chinese goods coming into the U.S. as part of its America First economic platform. Trump has promised that these tariffs will only benefit the trucking industry.
"When companies stay in America and move to America, it's our wonderful workers who reap the rewards, including our great truckers who will have more products to deliver and more contracts to fill," Trump said during an October 2017 speech on tax reform in Harrisburg, Penn.
The opposite seems to be true, however. Fewer goods coming into U.S. ports has meant fewer trucks are needed to move them. Freightwaves reports the U.S./China trade war has brought about a 9.5% drop in inbound container volume from May to June, with truckload volume 7% lower in April and May compared to the same months in 2018.
Trucking company J.B. Hunt cited tariffs during its April earnings call as one factor for its unexpectedly weak first quarter, noting weakness in the major West Coast market.
On the call, JB Hunt Executive Vice President Terrence Matthews said the supply of Chinese goods had slowed due to the threat of additional tariffs, which were supposed to go into effect March 1.
ACT Research's (ACT) latest release of the North American Commercial Vehicle OUTLOOK backs that outlook, noting the key risk to all commercial vehicle market forecasts remains the on-again trade war with China.
"Tariffs imposed by the U.S. have been met with in-kind tariffs from China, and the Chinese government has allowed the yuan to devalue, thereby offsetting the U.S. tariff impact, while simultaneously making U.S. goods even more expensive in China," says Kenny Vieth, ACT's president and senior analyst. "The bigger risk, especially to emerging economies, is that in order to compete with China, they will have to devalue their currencies, making U.S. goods more expensive in more countries and raising the risk of a deeper global downturn."
Furthermore, August is already off to a softer start, according to DAT Solutions, which operates North America's largest load board marketplace and DAT Freight Index, a monthly indicator of spot market trucking, with the van load-to-truck ratio dropping 6% for the week of Aug. 5-11.
3) Relaxed Hours of Service Regulations
While the trucking industry is largely in favor of relaxing the Hours of Service (HoS) regulations, proponents of the law say this could lead to longer days behind the wheel and greater drive fatigue, posing danger to the public at large.
The Federal Motor Carrier Safety Administration (FMCSA) is currently seeking public comment on four specific aspects of the rule it is considering changes to:
Short-haul hours of service limit;
HoS exception for adverse driving conditions;
30-minute rest break provision; and
Split-sleeper berth rule to allow drivers to split their required time in the sleeper berth.
The first public listening session will be held Aug. 24 in Dallas, Texas.
4) Job Creation
In line with his promise to ease regulations for the trucking industry, the Trump Administration advanced a pilot program last year to address the industry's ongoing driver shortage.
The program allows 18-to-20-year-old drivers that have training and experience in certain military occupational specialties to operate commercial vehicles. The federal government currently requires commercial truck drivers to be at least 21 to drive a large truck across state lines.
FMCSA also finalized a regulatory change that make it easier for military veterans who received vehicle training during their service to waive certain commercial driver testing requirements. Ohio is among the first states to submit a waiver application to FMCSA to permit the state to waive the skills assessment of CDL testing for military veterans.
These types of policies are the first step toward addressing the trucking industry's critical labor problem, which according to the American Trucking Associations (ATA), left the industry more than 60,000 drivers short in 2018.
"Over the past 15 years, we've watched the shortage rise and fall with economic trends, but it ballooned last year to the highest level we've seen to date," says ATA Chief Economist Bob Costello. "The combination of a surging freight economy and carriers' need for qualified drivers could severely disrupt the supply chain.
"The increase in the driver shortage should be a warning to carriers, shippers and policymakers, because if conditions don't change substantively, our industry could be short just over 100,000 drivers in five years and 160,000 drivers in 2028," he adds.
The latest numbers released by the Department of Labor (DOL) in July, however, offer a positive outlook for the industry's labor problem, indicating Trump's policies may be helping. In comparison to the meager 400 jobs added since January, the DOL shows the for-hire trucking industry added 7,300 jobs on a seasonally adjusted basis in the second quarter of 2019 and 11,700 jobs since the beginning of the year.