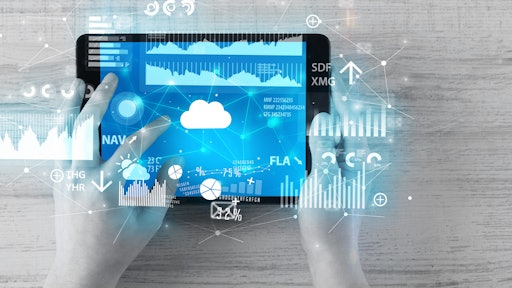 Getty Images
As consumers, our buying decisions are increasingly centered on logistics. Nearly every product is a commodity these days—competition for customers is no longer won with product alone. Service has become the critical winning factor.
Already the norm for online retailers, such as Amazon.com, this trend is now seen with raw materials, parts and finished goods. Additionally, mass customized products are now being treated as a commodity, with home delivered customized meals as a leading trend. Personalized ingredient selection is now considered as the standard service that customers demand.
What makes this all possible are the tools that give customers continuous visibility into the movement of goods to their doors, such as advanced replenishment and transportation management systems (TMS). These integrate suppliers, manufacturers, and retailers using data intelligence to drive supply chain decision-making and ultimately help companies meet the changing demands of their customers.
Cost Management
For food suppliers, one advantage is to use tools to visualize multiple complex processes helping to identify inefficiencies in the supply chain, and then build strategies to eliminate bottlenecks and cost challenges. Shippers can use real-time operational reports to help uncover opportunities like potential late shipments, backhauls, minimized mile-routing strategies and missed opportunities to combine orders—all patterns that are difficult, if not impossible, to see without access to detailed metrics and analysis.
Companies can also factor the end-to-end supply chain into estimates of time and cost of production and delivery of goods. For example, a protein processor manufacturer with 30 plants across the United States (using advanced tools) could consider the location of growers, distributors and customers when estimating production targets, movement costs and projected service levels to aggregate supply, self-dates, and customer orders to create efficiencies in logistics and margin.
A leaner workforce may also be possible. More streamlined transportation can mean fewer people are needed for loading, unloading, staging and more. It also can cut down on wasted time. When trucks don't arrive on schedule, transportation managers don't need to scramble to find cost-effective replacements. An automated system can provide a list of available options, capacities, costs and timelines, and trucks can be outfitted with GPS devices to improve predictability.
All of these efficiencies convert into better prices, faster turnarounds, less spoilage, and more reliable services for customers at every level in the supply chain. As an example, food service companies that are still doing manual transportation management can generally save from 6 percent to 11 percent when they begin using a TMS. But the savings are a secondary metric. The primary benefit lies in the improvement of the customer experience, thanks to mass customization of service.
Mass Customization of Service
Mass customization of service in the perishable supply chain requires synchronized processing, supplier availability, and transportation movement to streamline complex execution, which is achievable when you use tools like TMS to segment and aggregate data to create multiple, customized delivery paths. Customers get exactly what they want—and they know when to expect it.
For example, point-of-purchase materials, such as in-store aisle displays, holiday specials and even refrigerated fixtures, used to be shipped in cross segment standardized packages containing everything a store might require at their particular site. However, stores frequently do not use all of the display plans, signage or the all of the materials shipped. Today, the stores expect to receive a customized package containing only what they need based on the store specific brand, planogram, or promotion reducing waste and weight shipped.
If you deliver what the customer needs and let people see in real time where their order is, you eliminate calls and free up critical resources to be deployed elsewhere. Additionally, a TMS effectively enables utilizing a delivery day and time verses a ship date range. This provides larger ship windows to optimize transportation and drive customer service reliability.
Sustainability
Data technology can also help manufacturers measure and diminish the environmental impact of end-to-end supply chains, while saving money and keeping customer prices in check. Optimizing routes, delivering direct-to-store rather than to centralized warehouses, and also localizing production are all ways to reduce miles and emissions. Steps also can be taken to reduce the size and weight of paper and packaging. Increasingly, buyers demand insights that help them understand and minimize the environmental impact of the products they stock. A TMS can help you provide those metrics, while aligning with your customer's goals.
There are technology and process solutions for every kind of company and every challenge in the perishable supply chain. Legacy players once defined the space, but now newcomers offer more choices for finding a right-sized vendor. The key to success is being tech-ready.
Right now—once you find the right fit and are able to successfully transfer to a centralized data and technology platform—you have a great deal to gain.
Tony Donofrio, head of Argo Consulting's supply chain practice, has more than 30 years of supply chain experience. He has a reputation for taking on tough challenges, creating growth opportunities and outperforming the competition.