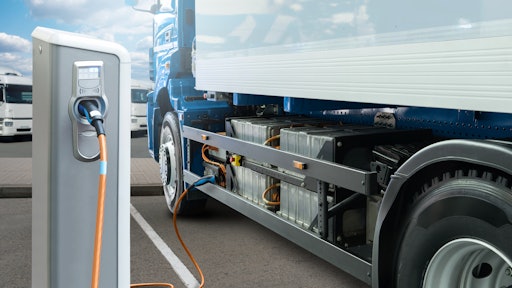 scharfsinn86 AdobeStock_460441554
Today marks the 1-year anniversary of the passage of the of the Inflation Reduction Act (IRA). And, a new report by Environmental Defense Fund (EDF) and WSP USA, indicates the U.S. market for electric vehicle and battery manufacturing continues to grow.
"The American electric vehicle manufacturing renaissance is booming, driven by historic federal investments," says Peter Zalzal, EDF's AVP for clean air strategies. "On its first birthday, the Inflation Reduction Act is spurring huge increases in EV manufacturing investments and tens of thousands of jobs for Americans in communities across the country. We must continue working collaboratively to maximize these vital benefits for everyone."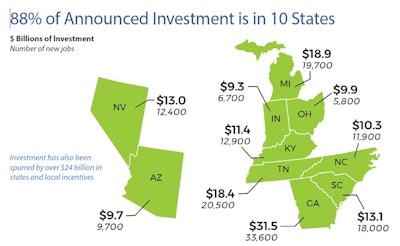 Key takeaways:
Manufacturers have announced more than $165 billion in concrete investment in U.S. EV and EV battery manufacturing facilities in the last eight years. More than half of that (56%) has happened in the last year, since IRA passage.
Manufacturers have announced more than 179,000 new direct U.S. EV-related jobs in the same timeframe, almost half of which were announced in the last year.
The announced investments are expected to create more than 800,000 additional jobs in the broader economy.
The states with the greatest levels of investment and announced jobs entail Georgia – $31.5 billion in EV investments and 33,600 jobs; Michigan – $18.9 billion in investment and 19,700 jobs; and Tennessee – $18.4 billion in investments and 20,500 jobs.
South Carolina, Nevada, Kentucky and North Carolina have more than $10 billion each in announced investments and between 10,000-20,000 announced new jobs per state.
Ohio, Arizona and Indiana round out the Top 10 states with more than $9 billion in announced investments each. Arizona's announced investments increased by 260% from March – from $3.7-9.7 billion.
By 2026, U.S. EV manufacturing facilities will be able to make about 4.7 million new passenger vehicles annually, which represents 36% of all new vehicles sold last year.
By 2027, U.S. facilities alone will be able to produce enough batteries to supply 12.2 million new passenger vehicles each year, which represents 95% of new vehicles sold last year.