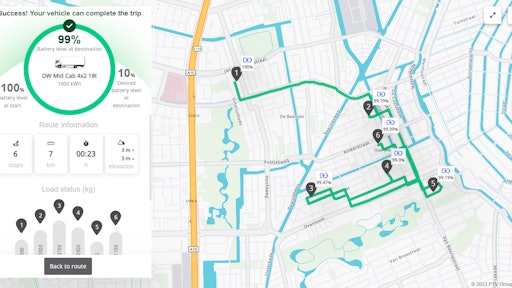 PTV Logistics
PTV Logistics introduced the EV Truck Route Planner, an online tool that calculates suitable routes for every electric truck or van, considering factors such as the payload, weather conditions and the vehicle's battery capacity and age.
"With the EV Truck Route Planner, we aim to provide more transparency regarding the investment in an electric fleet," says Michael Hubschneider, senior product manager at PTV Logistics. "Public information about electric vehicles is often very limited. Therefore, we collaborate with vehicle manufacturers to gather the necessary data. In this way, we aim to provide more transparency regarding investment decisions."
From PTV Logistics:
Fleet managers can use this brand-independent route planner to determine which electric vehicle is best suited for their operations.
Transport planners can select the electric truck or van they want to use, enter the start and end points of the route, as well as the payload weight and battery level at the start. With a single click, the tool calculates suitable routes for trucks, considering the current weather conditions and traffic situation. The result is an overview map showing the calculated route and the remaining battery level at the end of the journey.
The tool uses manufacturers' data to create a digital twin of each vehicle, providing a realistic representation of its behavior under various conditions. Factors such as high or low outside temperatures and headwinds influence energy consumption. Additionally, the vehicle's age, mileage, and driver behavior affect its range.