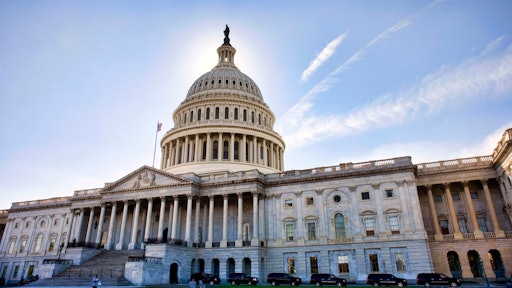 W.Scott McGill AdobeStock_191110992
The White House released claims that today's supply chains are more fluid and resilient since COVID-19.
"Today, we see increased access to transportation and warehousing capacity and equipment, solid throughput at the ports, improved delivery times, greater ocean shipping reliability, and steady declines in transportation costs," according to a recent press release from the White House.
And, while "the onset of the pandemic in early 2020 caused a large, negative shock to both supply and demand," as outlined in a separate White House blog, "the high correlation between [Producer Price Index] and supply chain pressures suggests that the easing we are seeing in supply chains may continue to show up in measures of inflation."
Some key points are:
The nation's ports moved record levels of cargo in 2021 (25.8 million units) and 2022 (25.5 million units) through increased collaboration across the logistics industry, which has helped reduce the significant backlog of anchored vessels from a peak of 155 to roughly a dozen in May 2023.
92% of goods at grocery and drug stores are in stock—above where they were pre-pandemic.
There are over 120 new trucking firms with Registered Apprenticeship programs to help attract, train, and retain talent in this critical sector.
The New York Fed's Global Supply Chain Pressure Index has eased off of its highest level on record. This has happened alongside a historic surge in East-West ocean shipping prices, which have fallen by roughly 90% since their peak in September 2021, as well as a 30% drop in gas prices since their summer 2022 peak. Moreover, annual core goods inflation has fallen more than 65 percent since its peak in February 2022.
To get to this point, President Biden signed Executive Orders and took on comprehensive reviews on various aspects of the supply chain in order to get to this point.
For starters, on Feb. 24, 2021, President Biden launched a 100-day review of supply chains critical to national security, public health and public safety. The review targeted four key industries --semiconductors, critical minerals, pharmaceuticals and electric vehicle batteries.
Two years later, more than 70 recommendations across the report have been completed to date – from providing financing across the full battery supply chain to leveraging the Defense Production Act in historic ways to diversifying supply chains by supporting small- and medium-sized businesses. Spurred by President Biden's Investing in America agenda, the private sector has invested over $470 billion in manufacturing of semiconductors, electric vehicles (EVs) and EV batteries, clean energy technologies and pharmaceutical and medical products.
Last year, the Biden Administration also developed Freight Logistics Optimization Works (FLOW), designed to tap supply chain visibility and information sharing to keep goods moving throughout the supply chain.
As of late last year, the number of participants has doubled, and existing partners having begun securely sharing data with USDOT for the first time, according to the U.S. Department of Transportation.
The largest impact though has been the improvement in port infrastructure. Late last year, the United States Department of Transportation (USDOT) Maritime Administration (MARAD) announced $703 million in grants to fund 41 projects in 22 states through the Port Infrastructure Development Program (PIDP), the largest amount than any year in the program's history.
More than 60% of the awards will be benefitting ports in historically disadvantaged communities and several of the projects will help reduce emissions at the ports through electrification. Additionally, more than $150 million in awards include a focus on electrification of port equipment to reduce emissions and improve air quality; and nearly $100 million for port projects that will advance offshore wind deployment. The funding, made possible by the Bipartisan Infrastructure Law and additional Congressional appropriations, will benefit coastal seaports, Great Lakes ports, and inland river ports, helping improve supply chain reliability through increased port capacity and resilience, more efficient operations, reduced port emissions, and new workforce opportunities.
Select grants include the JAXPORT Express Project, Cleveland-Cuyahoga County Port Authority, Port of Camden Access and Infrastructure Resiliency Project, Salem Wind Port Project and more.
All this being said, actions are in place to keep supply chains moving, and money is becoming available to help fund many of these initiatives. Regardless of supply chain visibility – or sometimes lack thereof -- normalized supply chains are here.