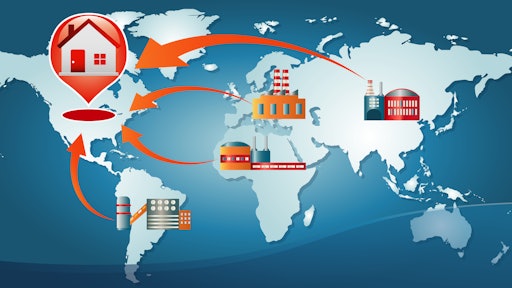 melita - stock.adobe.com
When Russia first invaded Ukraine, the human being side of me sympathized with the families whose lives will never be the same. Families separated at the border or torn apart by death. Infants born in bomb shelters. Mothers struggling to just keep going, no matter what.
But, the journalist side of me, the side that cover supply chains and how they're impacted by events such as these, immediately thought of the havoc the Russia/Ukraine War would mean for the future of supply chains; how the war would impact supply chains already struggling to keep goods moving; companies struggling to stay afloat; workers struggling just to survive.
As the United States embarks on the two-year anniversary of when the Coronavirus disease (COVID-19) pandemic hit, how will this war affect our nation, one that's may possibly just beginning to turn a corner into the right direction.
Well, for starters, fuel prices continue to rise, further impacting fleets and compounding the driver shortage even more.
Grocery retailers and their consumers are also feeling the heat, as prices for groceries and ingredients continue to rise, while the product shortage remains a threat to the cold food chain.
The Russia/Ukraine War has also shut down the operations of several third-party logistics (3PL) providers in Ukraine, putting all goods coming in and out to a standstill. And, goods scheduled to import into Ukraine are now be re-routed to other countries such as Poland to help aid the Ukrainians who've fled their native country to safety elsewhere.
What's more is, the impact of major ocean carriers pulling out of Russian ports results in a 40.2% drop in daily peak TEU vessel volumes and a 54% decrease in vessel volumes near Russian ports, according to project44. And, Maersk, MSC and CMA CGM have all suspended deliveries into and out of Russia.
Among LTL loads traveling into Eastern Europe, delayed loads have increased by 20% since before the invasion began, according to FourKites. FourKites data has also shown the largest increases in ocean dwell time in consumer packaged goods (CPG) and food and beverage, where dwell times in Europe have increased by 55%. Meanwhile, the volume of shipments into Russia has plummeted – already down 17% week-over-week as of March 2 compared to Feb. 17. This is due to several factors, from sanctions to treacherous routes. Many shippers have pulled out after facing dangerous conditions at the ports, including incidences of friendly fire, according to FourKites.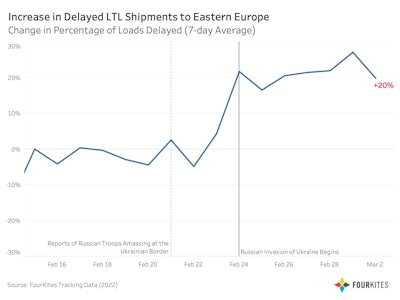 Furthermore, suppliers are shutting down production lines, putting a stop to all goods even being manufactured, which will then create a ripple through the global supply chain.
Ukraine and Russia are top exporters of major grains and vegetable oils, according to a Vox analysis of the food export data from International Trade Centre in 2020. Ukrainian agriculture will also be affected as farmers are pushed off their farms and port closures limit exports.
EverstreamAnalytics has tracked more than 35 companies that have halted production operations across Ukraine and Russia, with most belonging to the consumer goods and automotive sectors.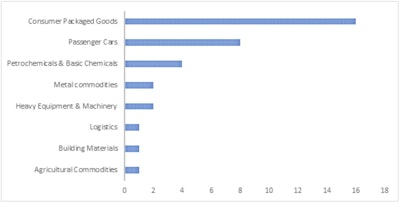 Freighters and airlines have warned that the airspace closures could increase the cost of flying cargo from Europe to Asia, potentially leading to delays and even making some routes commercially unviable, according to EverstreamAnalytics. Most of the airlines have been re-routing airplanes via the Middle East. Several freight forwarders had already suspended operations to and from Ukraine, with UPS and FedEx suspending shipments into Russia. Besides ocean carriers diverting cargo to Ukraine to alternative ports along the Black Sea and beyond, impacts should also be expected on rail connections from China to Europe, particularly those passing through Russian territory, EverstreamAnalytics adds.
"The current conflict between Ukraine and Russia can impact several areas of various supply chains but is likely to have focused impact on infrastructure and global companies," says Nate Rosier, VP, consulting for enVista Corp. "The most significant challenge that I foresee is infrastructure outages in power generation, as well as sporadic outages at vulnerable companies and government organizations that support supply chains."
"Regarding the consumer end of the supply chain, shortages and outages will have a large impact. Supply chain disruptions typically occur in a ripple effect, meaning it can take time for challenges that are already surfacing to impact consumers and even longer to restore conditions to normal," he adds. "Because of the unpredictable nature of these challenges, consumers should add time to order and procure durable goods and ensure they are stocked to hedge against supply shocks. The good news is that consumers have already been accustomed to this from the pandemic induced supply chain disruptions."
Despite how and when the Russia/Ukraine War ends, the impacts are already being felt by many supply chains, leading to production stoppages, port closures and other bottlenecks that are sure to create additional supply chain disruptions for months to come.