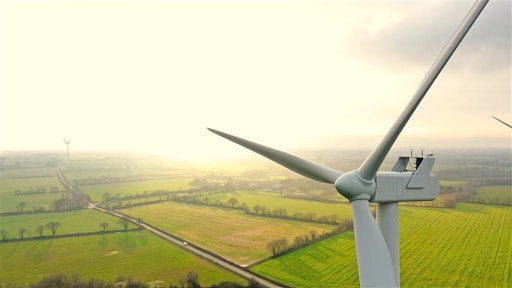 altitudedrone/Adobe Stock
As the newest addition to the editorial team, and to that end, the supply chain world, I came on board just as the industry was seemingly going overboard. Through a pandemic, catastrophic weather events, labor shortages – you name it – the supply chain industry continues to adapt and overcome. Part of that adaptation comes in the form of sustainable alternatives to age-old processes. Yes, technology can be attributed to a great deal of these alternative solutions, but it's the people in the industry that have gone out of their way to actively make sustainable choices that inspire me most.
The Sustainability Consortium (TSC) found that sustainability scores of product manufacturers have increased by 38% from 2016-2020. While an impressive feat on its own, we need to also give credit where credit is due as the increase continued amid a global pandemic. That's dedication. I want to give a pat on the back to the companies that took responsibility for their part in pollution and turned their practices around to join the sustainability movement.
However, it should also be noted that regulations around sustainability initiatives began to pile onto companies in recent years, making those choosing not to take action a potential risk to investors. Whatever the catalyst for the change, the growing shift to sustainable solutions across the supply chain industry has become not only a wonderful trend, but a way to think outside the box when it comes to efficient eco-friendly processes. For example, we can "expect highly automated micro-fulfillment centers where consumers can both pick up their packaging and recycle it on-site with necessary resources like shredders," says Linda Ewing, senior vice president, packaging and value services, GEODIS. "Micro-fulfillment centers would lead to environmental packaging benefits by allowing brands to ship items in bulk and reduce individual shipments to consumers."
Sustainable alternatives not only benefit the environment and public, but there are direct benefits for companies, as well. Take, for example, plastic shrink wrap. Shrink wrap is the go-to choice for wrapping packages and cartons on pallets for shipments. The single-use plastic was being used in excess for packaging. Supply and Demand Chain Executive's 2021 Women in Supply Chain winner Alicemarie Geoffrion, president, packaging, DHL Supply Chain, highlights sustainable solutions to reduce plastic waste, such as reusable plastic wrap and precision wrapping by robots or dispensers. These options cut down on material costs by making purchases last longer and limiting the amount of plastic wrap used to what is actually needed. Less plastic and each wrap being reused has a huge impact on the overall plastic shrink wrap waste created by packaging. More changes like precision packaging will bring a better future for the entire industry in both innovative and environmental ways.
If you're looking for the next new way to do what you already do, but better, try a sustainable approach. Sustainable solutions create positive effects for both companies and the environment – truly a win-win for all parties. It's just good business. I look forward to hearing about what your company comes up with as I continue to delve into the supply chain industry.