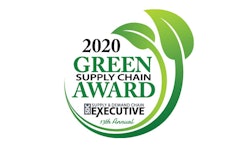 The Coronavirus disease (COVID-19) pandemic has upended many industries, and the supply chain is no exception. Since March, millions of people have lost their jobs, plummeting the economy. Stores experienced severe shortages of essential products. And, companies' supply chains were upended, forcing them to re-tool, revamp and re-assess how they do business and move product through the supply chain.
But, the supply chain industry continues to persevere, coming together to address some much-needed changes in sustainability and holding corporations accountable for their green practices.
In fact, a Kearny study found that 78% of consumers believe companies could be doing more to help them make decisions that improve environmental outcomes, while 48% of consumers have grown more concerned about green practices since the outbreak began.
As the pandemic continues, more companies have zeroed in on their green initiatives.
A Coyote Logistics report found that 81% of companies are more focused on sustainability today than they were three years ago. In order for companies to maintain successful supply chains, sustainable practices must play an integral role company-wide.
This year's winners of the Supply & Demand Chain Executive Green Supply Chain award continue to put sustainability at the forefront.
The Green Supply Chain award recognizes companies making green or sustainability a core part of their supply chain strategy and working to achieve measurable sustainability goals within their own operations and/or supply chains. The recipients of this year's award have made sustainability a priority in a time of crisis, focusing on ways to re-use or recycle items throughout their operations.
According to an EcoVadis survey, supply chains were vulnerable leading up to the COVID-19 crisis. Nearly 18% of businesses in North America participate in direct carbon reporting compared to 15% of organizations in Europe and AMEA. Small and medium-sized enterprises underperform in emissions reporting, highlighting the need for engagement strategies that develop management system maturity and guide improvements.
"The recent pandemic put a magnifying glass on supply chain risks and vulnerabilities," Pierre-Francois Thaler, co-CEO of EcoVadis, said in a press release. "As organizations look to rebuild operations, they must ensure strong sustainability practices remain front and center, especially when it comes to supplier selection and relationship management. You are only as strong as your most vulnerable supplier, and without a holistic sustainability management system, organizations will continue to struggle to build resilience to supply chain disruptions and fail to meaningfully contribute to global sustainability outcomes."
Regardless of how long the pandemic continues, sustainable practices and operations are now considered an expectation among consumers and key stakeholders.
As companies pave the way to become sustainable leaders in the global supply chain, consumers will take notice.
Please join SDCE in congratulating the Green Supply Chain award winners.
Here are some select standouts (see below). To view the additional winners, please click here.
For Adexa, measuring is the first step to improvement. The company enables Fortune-class manufacturing companies to monitor their carbon footprint index every time they plan production, determining all the possible ways of producing a mix of products at all different locations and with the use of different materials. As the combination of production factors changes, so too does the carbon footprint. This allows Adexa's planning system to tag the carbon footprint of each method, supplier, component, location and more. The company's system also deploys machine learning techniques using pattern recognition algorithms to detect trends and find major causes of carbon emission in the supply chain, integrating product lifecycle management and supply chain planning to produce a greener company. By offering visibility into its methods, Adexa provides insight that helps educate clients on the impact their operational decisions have on the environment.
As a global supply chain provider, ALOM maintains an increased responsibility of monitoring environmental management by demonstrating its highest levels of corporate social responsibility. Over the last year, ALOM formalized its longstanding commitment to environmental protection and resource sustainability by achieving ISO 14001 certification at both its Fremont, Calif., and Indianapolis, Ind., production and fulfillment facilities. Despite the company already executing environmental and sustainability policy/programs throughout its operations, ALOM demonstrated to clients and community stakeholders that its environmental management system fully achieved its intended outcomes. The company has placed a key focus on its environmental management plan with associated performance metrics and regulatory compliance documentation into four areas—material sourcing/procurement; carbon footprint offset; operational efficiency and supply chain planning; and material recycling and use of sustainable materials.
Alpega
Alpega provides several transportation technology solutions to support corporate supply chain sustainability efforts. The company's transportation management system offers an integrated carbon footprint calculator to calculate and track the CO2 footprint of shipments, providing customers visibility into the sustainability practices of their supply chains. With that, companies can monitor and create transparency around their greenhouse gas contributions and the data can be collocated and used for reporting, comparisons and future tenders. In addition, Alpega's TenderEasy platform enables freight tendering, spot bidding and the ability to source and evaluate a preferred carrier network based on specific criteria that aligns with sustainability goals that can be used as points of consideration when procuring carriers to help reduce one's carbon footprint.
AutoStore continues to be a pioneer for cube storage automation. The company provides retailers with cutting-edge, sustainably designed technology that revamped the outdated retail supply chain system, allowing customers to achieve measurable sustainability goals within their operations. The company also restructured the way customers handle their operations to meet their sustainability goals by ensuring warehouses are optimized and that automated robots are using minimal energy. Just 10 AutoStore robots use as much energy as a household vacuum, consuming as little as 100 watts of energy an hour. Aside from conserving warehouse energy, AutoStore also enables companies to utilize their products long-term, committing to first servicing parts rather than replacing and wasting materials unless absolute necessary.
Basware continues to put sustainability at the forefront by using automation via its Basware electronic purchase-to-pay services. By adopting electronic invoicing, companies can not only reduce the amount of paper used within the organization, but also reinforce their green credentials by reducing CO2 emissions. The company is also committed to helping customers adopt sustainability practices. Just this year, Basware introduced an invoice carbon footprint index, which allows customers to view their CO2 emissions per invoice and benchmark the index against peer companies. Basware customers can also follow development of their own CO2 index over time, as well as see the average carbon footprint within the Basware network and benchmark against that. Plus, the solution estimates how many trees or how much water a company has saved if they onboard more suppliers to e-invoicing.
Bergen Logistics is always looking for ways to better the company and evolve its processes that best serve customers and the environment. The company has been incorporating green and sustainable activities and policies in its supply chain through a variety of areas. For example, in its four U.S. locations, Bergen Logistics lowered energy consumption by installing LED lights and motion sensors. In addition, it completely turned off lighting in its 10,000-square-foot Automatic Guided Vehicle Area. In two locations, the company installed HVLS fans to reduce the number of individual cooling devices on the floor. Meanwhile, Bergen incorporates sustainability into its shipping operations by offering carbon-neutral shipping options.
BGIS Global Integrated Solutions prides itself on being a leader when it comes to corporate social responsibility. The company's BGIS Sustainable Procurement policy provides guidance to all BGIS personnel toward integrating environmental and social considerations in purchasing decisions to promote a more sustainable way of doing business. The company is committed to providing safe and healthy working conditions, all while operating under an environmental stewardship philosophy. Through its commitments, BGIS enables corporate innovation and across its clients' real estate portfolios by developing and implementing industry real estate and facility management solutions.
Waste, whether it be from food, beverage or pharmaceutical, is becoming a global epidemic. Controlant's solution reduces supply chain waste and carbon footprint. Plus, its Internet of Things (IoT) data loggers are reusable, which allows clients to reduce their logger usage to 30,000 through a reusable device that will last for years.
To further its sustainability efforts, CT Logistics invested in software developments that provide shippers the tools to make greener choices in their supply chain. The company enhanced its FreitRater Lion software to help shippers drive energy efficiency with supply chain routing analysis technologies, aiming to facilitate more optimal and a greener transportation mode for shippers. In addition, the software enables shippers to choose environmentally conscious routings, mode selections and carriers with the shortest transit times to reduce fuel consumption and lower CO2 emissions.
As a global hotel brand operating in some of the most beautiful destinations around the world, Hilton and its procurement arm, Hilton Supply Management (HSM), recognize their critical responsibility to protect the planet, so that it remains healthy and vibrant for future generations. Hilton is redefining sustainable travel through its Travel with Purpose program. By 2030, the company committed to cut its environmental footprint in half and double its social impact by driving positive change across operations, the supply chain and in the communities in which it operates. To activate on this commitment, HSM works closely with partners across the supply chain to identify opportunities to source responsibly, reduce plastic waste, address food waste, increase recycling rates and collaborate with local communities to invest in projects that contribute to environmental stewardship and resiliency.
iGPS Logistics provides plastic pallet pooling and related logistics services for major manufacturers and distributors, with a commitment to embracing sustainability in business wherever possible. All iGPS pallets are 100% recyclable and can be remolded into new ones if damage occurs. The company's pallets are about 35% lighter than alternatives, and uses less fuel for transport and produces fewer emissions. In addition, the iGPS business model ensures that all pallets are used and re-used by customers in the same geographic area, thus minimizing the need for pallets to be shipped long distances, further reducing customers' carbon footprint.
The Raymond Corporation incorporates sustainability into its supply chain in numerous ways, including upgrading software and controllers to automated logic, designating five full-time positions responsible for minimizing the organization's waste stream, using alternative fuels or energy cycles, implementing sustainable packaging and more. By doing this, the company has seen a nearly 56% reduction in landfill contribution per truck since 2010 and recycling 97.6% of byproducts. In addition, 100% of the company's wood pallets are either recycled or re-used.
Ryder System grabbed on to the opportunity to reduce environmental impacts of its own operations, reducing more than 21% of CO2E emissions in the last 10 years. By utilizing Ryder's supply chain solutions and dedicated transportation solutions, customers benefit from maximizing freight tonnage delivered per shipment and per mile, while minimizing fleet emissions and related fuel costs for their operations. The company invests in state-of-the-art vehicles, fleet management solutions and diagnostic technologies that expand cleaner-burning fuel capabilities and drive fuel savings. In addition, at Ryder-managed warehouses, the company employs LEAN methodologies that continually improve operating processes, maximize efficiency and minimize waste.
ShipHawk lets data be the guide for packing in boxes, poly mailers, padded mailers, shipping bags and envelopes to ensure the right container is used for each order. The company reduces the amount of packing material required to process an order, configuring every order based on item size, weight, value and fragility and selects the smallest box that meets carrier standards to reduce box usage. In addition, the company assembles the boxes onto pallets to rate across mode to ensure the most efficient transportation option.
In an industry with tight margins, high food waste and major swings in demand, Shipwell helped to streamline the inbound logistics operation of a major meal kit company and quickly identified features in the platform that could help it reduce waste with efficient logistics. The company used Shipwell's TMS to integrate its order system and centralize orders through its application programming interface. By doing so, Shipwell consolidated the orders into shipments based on characteristics informed by machine learning and artificial intelligence into fewer shipments, saving the customer money, but also reducing pollution from excess long-haul shipments. By managing all shipments in one platform, Shipwell helped the meal kit company reduce food spoilage and improve supply chain efficiency.
TechSera offers "x.BOL" as a carbon-neutral, go-green solution to the traditional paper-driven documents that shippers and truckers tend to use. By using an electronic Bill of Lading exchange, shipping and trucking companies can provide the information digitally, enable track-and-trace options, collect digital signatures and have proof of delivery. This allows for tremendous paper savings and offers a major ROI on digital tools.
VAI
VAI's cloud-based enterprise resource planning and technology solutions help enhance sustainability across the supply chain for distributors, manufacturers and specialty retailers. By servicing many industries, the software is equipped with green measures that not only save companies time, money and resources, but also adds value to their bottom line. In addition, the company's warehouse management system helps customers reduce paper and manual processes, sharply reducing the use of natural resources. And, VAI's truck mapping application helps companies maximize available space on trucks by consolidating pallets as well as making sure they are positioned correctly for deliveries. This allows companies to organize routes and ensures that warehouse employees have the right information and can minimize breakage while maximizing efficiency.
West Liberty Foods is committed to preserving natural resources and protecting environmental quality. Safeguarding natural resources helps ensure its business has the raw materials it needs—now into the future—to continue producing high-quality, safe protein products. The company's environmental policy statement outlines its commitment to preserving natural resources, protection of shared resources and enhanced community involvement around these goals. Its locations are ISO 14001-certified and verified landfill-free. Currently, West Liberty Foods distributes a sustainability questionnaire to all vendor partners that measures involvement in, and achievements of, programs pertaining to sustainability, auditing, animal welfare, environment, community, ethics practices and more. By doing so, the company leans on its vendor partners to ensure supply chain practices and strategies meet evolving goals and continuous improvement initiatives.
Companies in this article