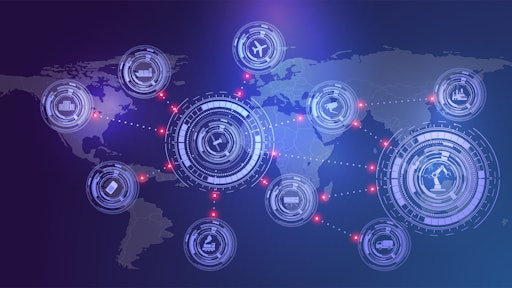 ZinetroN/stock.adobe.com
The digital retail bubble of the early pandemic has burst, and even industry giants like Amazon are feeling the strain. While many companies were bolstered by the sudden, unprecedented increase in online shopping, the dust is now settling and, according to the U.S. Department of Commerce, the e-commerce industry is undergoing a correction. It's an adjustment—but this isn't necessarily bad news, especially for those in the supply chain and logistics sector. The pandemic, which shut down ports, closed businesses and rendered truckers unavailable, didn't provide an ideal operational state for figuring out logistics. Learning from this event, however, should benefit the industry and economy for years to come.
In his 2022 predictions, Ed Gung with the Gartner Research Board forecasted that the era of rapid digital transformation would soon transition to a time of reckoning, when the true benefits of the extensive changes made throughout the pandemic will be assessed. In other words, 2023 will be the proving ground for the digital implementations of the last 24 months.
Consumers crave visibility
B2B clients want to know that the solution they contract with will allow them to put their best foot forward. After all, it doesn't matter how brilliant a brand's product is if after the consumer orders it, it never arrives. Nearly as damaging to brand trust are late arrivals, damaged products and a lack of visibility throughout the delivery process that leaves consumers wondering if their investment (and trust) was worth it. Research indicates that 98% of consumers say delivery experience is key to determining their loyalty to a brand, and 47% say poor delivery communication and visibility will stop them from ordering from a brand again.
Consumers also desire control when it comes to setting up their deliveries via options like streamlined scheduling (whether one-click or at check-out), and the ability to toggle among multiple delivery locations. According to Total Retail, 77% of shoppers have chosen not to complete a purchase because they were dissatisfied with the delivery options. In a time of increasingly rapid delivery and scheduling options that fit seamlessly into daily routines, there is little excuse for brands not to offer these conveniences.
Tech that makes a difference
How can solutions offer B2B clients the differentiating power of both visibility and control, so they can in turn deliver it to their consumers? 93% of companies say they're "struggling to navigate the rapidly growing landscape of disruptive new technologies."
Integrated WMS and TMS
Research from Modern Materials Handling demonstrates that as recently as 2020, 45% of supply chain managers were still relying disproportionately on manual processes. By integrating warehouse management systems (WMS) and transportation management systems (TMS), supply chain solution providers can help their clients escape time-consuming, error-prone legacy processes from a bygone era—and rescue their customers along with them.
More recent MMH research highlights the proliferation of warehouse automation throughout the industry. After a boom during the early pandemic, WMS implementation continues to show steady growth. The next step for many logistics firms will involve implementing a new TMS solution that integrates with recently adopted WMS. As this trend evolves, it will drive positive outcomes for solutions providers and their clients.
Electronic bills of lading
2023 will see the implementation of a standardized format for electronic bills of lading (eBOLs) by the National Motor Freight Traffic Association (NMFTA). While Deliveright has used eBOLs since our founding, it has taken almost a decade for the industry to adopt this approach. We've remained steadfast though, refusing to work by fax to enable those whose technology was stuck in the past. Now, it's paying off industry wide. eBOLs will facilitate easier LTL (less-than-truckload) deliveries as the practice becomes more common, as drivers will no longer have to deal with the mountains of physical paperwork that accompany the multiple-stop reality of the LTL world.
Standardized eBOLs will make full-truckload (FTL) shipments easier too, by reducing the propensity for human error, and streamlining the crucial final mile, as well. The standardized format will speed up the exchange of data related to an item's progress through the supply chain, increasing visibility.
Diagnosing damages with machine learning
Lasting customer loyalty is locked in or lost forever, depending on whether the order they've been looking forward to arrives in good shape, or ends up on their doorstep damaged. Unfortunately, the sheer difficulty of handling big and bulky goods means they have higher damage rates than other sectors of the shipping and delivery industry.
In heavy goods shipping and logistics in 2023, strategic use of machine learning will be able to pinpoint exactly where along an item's journey damage happens. This will help to streamline the damage claims process, and create procedures that prevent damage—leading to happier employees, and happier customers. According to McKinsey, the next steps of digital transformation will entail "a common data and AI platform to ingest, store, access, process and govern information technology and operational technology (IT/OT) data." For the heavy goods industry, this tech will power damage diagnostics.
Turning visibility into action
It's clear that technology will continue to drive growth in the supply chain industry in 2023—just as it has each year since "technology" meant a horse and buggy pulling a wagon of packages. But while the technologies discussed above can provide unprecedented visibility into the delivery process, visibility into issues doesn't mean anything, if you don't use that information to address the underlying factors causing those issues in the first place and continue to improve.
Imagine you have a tool that allows you to perfectly visualize the location of every horse and buggy in the country, all at once. You can see all the deliveries they're making, how fast they're moving and when they take breaks. Your knowledge is staggering—but the whole system is terrible. It's 2023, and if you don't use all of this knowledge and visibility into the outdated horse and buggy system to suggest replacing horses and buggies with truck fleets, you're wasting time and energy. Obviously, horses and buggies are not relevant today, but when transportation and delivery providers are relying on paper-based, manual processes, it is clear that they are using the wrong approach. Increasing visibility of an inefficient system without trying to solve the underlying operational problems does nothing, except give you a better view of the dysfunction.
Tools like integrated WMS and TMS and strategic machine learning increase the agility of supply chain logistics. In 2023, it's all about recognizing the insights they offer and taking action to improve performance. This will improve the actual experience and the consumer's perception of the experience at the same time. Delivering better results and happier consumers should be the ultimate goal of any technological initiatives this year, and beyond.