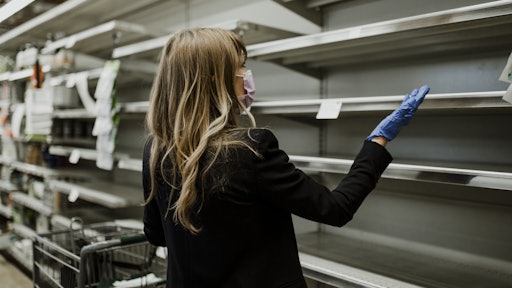 rawpixel.com/stock.adobe.com
Over the past two years, we've seen first-hand the drastic and immediate impact disruptive events can have on supply chains. From pandemic-driven volatility, and extreme port congestion, to labor and supply shortages, climate events, and sky-high inflation, countless shocks have exposed the cracks in our existing supply chain infrastructure. And while many businesses and industries alike have realized the critical need for greater supply chain resilience, the recent baby formula shortage underscores how fragile our supply chain ecosystem still is.
The risks of a concentrated supply chain
The formula market in the U.S. is highly concentrated, with just four companies controlling 90% of domestic manufacturing. So, when the country's largest formula manufacturer – Abbott – stopped production at an essential plant in February, the impact on formula supply was swift. Shelves emptied quickly as parents, desperate to find formula for their infants, drove demand that outstripped supply. Several months later, domestic formula supply is still not stable, even with the FDA granting emergency approval to overseas producers. According to data from Datasembly, ten states now have had formula out-of-stock rates at 90% or greater. And, just last month, the FDA announced plans to help overseas producers secure long-term authorization in the U.S. – an unprecedented move in a highly regulated market.
With one manufacturer in control of more than 40% of the formula supply, it's not surprising that an unplanned factory shutdown had such an abrupt impact. And while this level of concentration is not unique to the formula industry – the meat supply chain, for instance, is dominated by four prominent players – it's clear that supplier concentration drives risk, and supply chain risk is not to be taken lightly. Still, many organizations with concentrated supply chains have yet to prioritize end-to-end visibility in their ecosystems, even after seeing the ripple effects of supplier disruption in recent years.
Avoid downtime with end-to-end visibility
It should go without saying, but if supply chain leaders can't act with agility, they won't be able to keep up with the type and pace of change we're experiencing globally.
From recalls and factory closures to the impact of climate change, manufacturers need to be able to pivot on a dime to avoid costly and potentially life-threatening shortages. But without real-time visibility across the supply chain, quick, strategic action in the face of sudden disruption is nearly impossible – especially for businesses and industries without supplier diversification.
Thankfully, new supply chain technologies and solutions have made end-to-end visibility possible. With the right tools in place, leaders can achieve a well-rounded view of their entire ecosystem and monitor and track every stakeholder and supplier's activity. This makes it easier for decision-makers to understand and assess potential risks and opportunities.
If you're a global roofing manufacturer, for instance, you can track the fluctuating price of raw materials and shifts in shipping costs, and use that information to either scale up, or scale down, production at specific factory locations around the world. Similarly, if production at a specific factory was forced to suddenly stop – say, in response to a COVID outbreak or FDA decision – you can quickly identify suppliers to potentially take on additional capacity to avoid the costs and risks, associated with prolonged downtime.
Turn change into opportunity with a digital twin
Market concentration leaves little room for error and can make finding alternate suppliers in the face of unplanned change a costly and time-intensive endeavor. Beyond end-to-end visibility, the rise of Digital Twin technology can help leaders in highly concentrated markets respond quickly and strategically to disruption.
Digital Twin technology essentially provides businesses with a virtual copy of their entire physical supply chain. In addition to their direct ecosystem – i.e., inventory, transportation, distribution, and supplier data – manufacturers can also pull insights from public sources, like weather or sustainability data, into models and plans. Armed with this comprehensive view, manufacturers can model potential 'what if' scenarios and identify potential points of failure across their supply chain network.
For instance, that same roofing manufacturer can track real-time weather data in specific locations to model the impact a sudden storm might have on the flow of goods across their supply chain. If and when a weather event occurred, decision-makers can get ahead of the competition by using that data to diversify their supply and quickly pivot orders to a facility not impacted by the storm.
From fragile to agile supply chains
While the formula shortage serves as a powerful reminder of the risks associated with market consolidation, leaders still have opportunities to build resilience and agility into concentrated supply chain ecosystems. With end-to-end supply chain visibility, and real-time data from the business, broader ecosystem, and outside world, manufacturers can identify and remedy issues while bolstering confidence in their ability to pivot in the face of unplanned disruption. Whether tracking the origin of a bad batch to avoid an all-out product recall or quickly activating a new supplier to prevent downtime in production – visibility and data can help leaders in concentrated markets diversify their options and remain agile and resilient in the face of change.