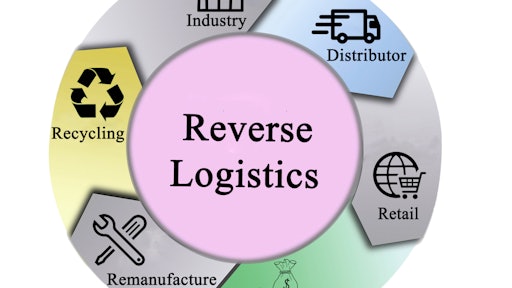 Dmitry AdobeStock_289803490
Blue Yonder announced plans to acquire Doddle, a first- and last-mile technology business that will help expand Blue Yonder's full-circle expertise encompassing final-mile, returns management and reverse logistics solutions.
"Doddle has achieved what so few other companies have been able to accomplish: it has cracked the code of first- and last-mile together with omni-channel returns," says Duncan Angove, CEO, Blue Yonder. "The beauty of Doddle's solution is that they solve the returns problem end-to-end. From returns initiation, to returns rules, from in-store returns processing to self-service kiosks, right through to warehouse returns handling and back into stock. The proliferation of e-commerce — and, therefore, returns — has placed increased pressure on carriers, muddied the waters of inventory management, and created frustrations for shoppers. Doddle's capabilities unlock a differentiated, superior customer experience and will help us to further our mission to transform the supply chain."
"Today, over 900 retailers and logistics providers worldwide work with Doddle to help manage the growing challenges in the first and last mile," says Tim Robinson, founder and CEO, Doddle. "We knew, however, that in order to find the perfect solution to meet these challenges we needed to integrate our offerings with a strong supply chain planning, orchestration and execution solutions provider. Blue Yonder's scale and deep expertise is the perfect alliance, and we're looking forward to helping more businesses tackle these challenges – together."
Key takeaways:
With

Doddle's

capabilities,

Blue Yonder

will be able to offer retailers and logistics service providers such as carriers an enhanced growth potential as they look to strengthen their businesses and build more sustainable supply chains.
In addition,

Doddle's

self-service return kiosks and pick-up, drop-off (PUDO) networks offer retail and logistics businesses an efficient solution to today's returns management challenges.

At close,

Blue Yonder's

warehouse management system (WMS), order management system (OMS), and transportation management system (TMS) customers, including retailers, logistics service providers, and postal carriers, will have the potential for growth in both scale and cost reduction, with a full-circle logistics experience.

Doddle

extends

Blue Yonder

offerings to fully orchestrate the network from customer engagement to stores, fulfillment centers, and logistics, completing the ecosystem needed to support reverse logistics, shipment consolidations, and inventory circularity.