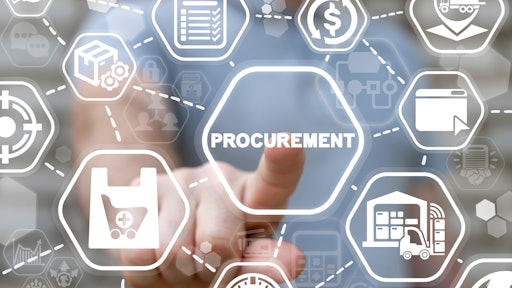 wladimir1804/stock.adobe.com
The global supply chain sits at the center of some of the world's most pressing economic and environmental challenges. Climate change, the circular economy, Environmental Social and Governance (ESG) commitments, and sustainability have all become key business priorities in recent years and have a direct impact on how companies manage their supply chain operations—both as a major contributor to the problem and as an area of focus for improvements.
Research also shows that the supply chain is becoming a focus for consumers. In fact, 90% of Gen X consumers say they would be willing to pay more for sustainably produced items—compared to 34% just a few years ago. In addition, investors are taking companies' sustainability rating into consideration when making a financial commitments and employees are increasingly wanting to work for sustainable organizations. This appetite for responsible sourcing is making it imperative for companies to prioritize an environmentally and socially responsible approach to procurement.
Amid rising demand—and regulation—companies that embrace this mindset will be positioned to unlock new growth opportunities that benefit both business and the environment.
Meeting Shifting Consumer Expectations
Call it the "Amazon Effect." Roughly a decade ago, two-day free shipping was more of a dream than reality. But over time, customers became accustomed to quick delivery to the point that it is now commonplace. In the same way, consumers today are expecting the products they buy to be eco-friendly.
Approximately 50% of consumers believe companies are exaggerating their sustainability claims through greenwashing to mislead customers. Meanwhile, over 80% of a company's carbon footprint can be traced to scope 3 emissions found within its supply chain. These figures symbolize an enormous impact that can be addressed through improved supply chain practices and responsible sourcing.
The Evolving Regulatory Landscape
Rising consumer demand for more transparency has also brought increased attention from government authorities. Regulation is not on the way— it has already arrived. Around the world, government oversight in across sectors is becoming law. Several European countries and the United States have recently passed legislation mandating due diligence in supply chains, while the European Union and Canada have proposals under consideration.
This evolving landscape of regulation and responsible sourcing is putting pressure on businesses to align their sustainability initiatives with the economic and environmental challenges that are causing them.
While many global companies are already working towards maintaining a sustainable and transparent supply chain, they must prepare for the local implications of legislation. Enhancing their ESG policies with responsible sourcing will require navigating supply chain vulnerabilities, supplier relations and managing overall transparency and resiliency for consumers of the end-product.
However, while regulation is posed to accelerate the adoption of more responsible sourcing, it is still only a means of enforcement. For companies to consider the full spectrum of sustainability, procurement is the first step.
Taking a Holistic View
Businesses must examine their value chains comprehensively, from sourcing raw materials to understanding the end product's lifecycle. As procurement teams aim to buy products and services with positive environmental and social impact, they must evaluate potential goods and materials that would make up the products made and distributed in the supply chain. In this evaluation, they are considering the environmental, societal, and economic impact of sourcing the materials, such as, potential risks with energy efficiency, water and land usage, and hazardous materials. They should also prioritize suppliers with strong human rights track records and consider the physical proximity of the supplier to the actual demand to reduce carbon emissions.
Every company needs to have clear goals. But if they miss them, they're highlighting a disconnect between what they want to achieve and the realities of their business. In procurement, many organizations set goals related to carbon footprint reduction or increasing the percent of diverse suppliers. These steps are key to progress, but measurement is the only way to ensure that companies comply with their own commitments—as well as new regulations. Tracking progress toward goals around reducing carbon emissions, reducing waste and eliminating inequality, though, requires the right tools that help establish strong relationships with key suppliers, while monitoring and analyzing supply chain data in real-time.
The Power of Business Networks
Of course, there is no one-size-fits-all solution for supply chain complexities. But companies can leverage business networks to choose vendors based not only on price and availability but also on human rights records, emissions, waste, inequality and other sustainability and risk KPI's. Buyers can search for suppliers based on these ratings and even set parameters around purchasing products that contribute to scope 3 emissions, enabling them to select those that will have a positive impact on the sustainability of their supply chains.
With this information, businesses can track the journey of raw materials from their origin to the final product to verify claims regarding ethical sourcing, identify potential risks in real-time, and demonstrate compliance with relevant sustainability standards.
In this new era of responsible sourcing, procurement teams are in the unique position to influence a company's environmental impact in a significant way by developing and executing responsible sourcing strategies with metrics and policies that can help reduce carbon footprint in line with corporate goals.
Those who take the time to vet materials, goods and services with these goals in mind will significantly contribute to their company's environmental impact.