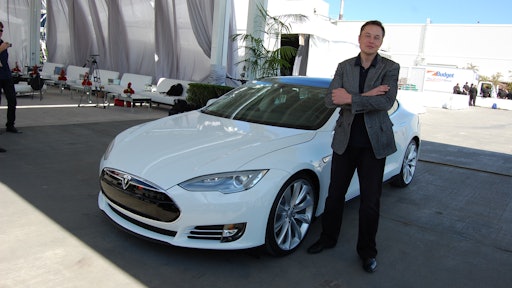 Elon Musk wants to get the Tesla Model 3 into as many hands as possible, but he faces some big production challenges.
The company's latest car, which is far cheaper than its other offerings with a starting price of $35,000, is a big moment for the company as it prepares to produce far more electric vehicles than it's ever made. The Tesla CEO shared a video on Instagram Monday of the factory where the vehicle is being produced, explaining why deposit holders might have a long wait. Musk revealed that the production line is currently producing Model 3 vehicles at one tenth the full speed.
At a July event where Musk handed over the first 30 vehicles, he outlined an ambitious plan to produce 100 cars in August, 1,500 in September, and scale up to reach 10,000 Model 3 vehicles per week in 2018. But, it hasn't worked out that way; last week, Tesla admitted it only made 260 Model 3s in the quarter ending in September.
To read the full original article, please click here.