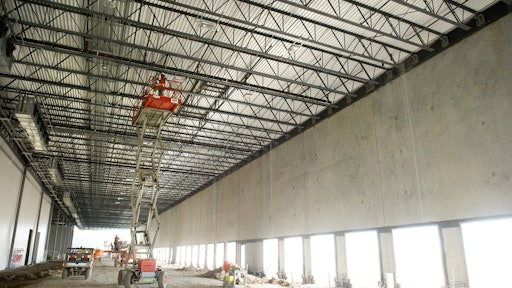 The U.S. industrial-property market continued its record run of improvement in the third quarter, given that availability of industrial space declined for the 26th consecutive quarter, according to the latest analysis from CBRE Group Inc.
Availability of industrial space across markets tracked by CBRE declined by 20 basis points (BPs) to 8.4 percent in the third quarter from the second, extending the longest stretch of consecutive quarterly declines since CBRE began tracking the figures in 1989. Forty-five markets registered declines in availability in the quarter and 10 reported increases likely due to completion of new buildings.

The industrial market continues to draw momentum from e-commerce, as hefty flows of goods stream into the U.S., the world's largest consumer economy, and online sales claim a steadily growing portion of overall retail sales. Industrial users, in turn, embarked on a supply-chain arms race of sorts by adding more distribution space, be it for big-box distribution centers, last-mile facilities nearest population centers or reverse-logistics facilities to handle returns.

"The industrial market is running full-throttle," said Jeffrey Havsy, CBRE's chief economist in the Americas. "The pace of demand has been running nearly double that of supply and vacancy continues to decline in big chunks. Demand is being driven by strong growth in e-commerce, a healthy auto industry and some reshoring of certain types of manufacturing."

Among the markets that showed the largest year-over-year declines in availability in the third quarter are Memphis (down 260 BPs), Detroit (down 250), New York City (down 240), Tampa (down 200), Boston (down 180) and Philadelphia (150). Those that registered increases in availability, often due to new construction, include Denver, Houston, Cincinnati and California's Riverside market.

Availability as referenced by CBRE encompasses all space available for lease, including space currently occupied, but otherwise listed for use by other tenants. This is in contrast to vacancy, which denotes only empty space. Several markets now are posting their lowest availability in decades, including Memphis, Los Angeles, Pittsburgh, Raleigh, south central Pennsylvania and Orange County, California.

CBRE expects the nationwide decline in availability of industrial space to eventually slow or reverse as new buildings are completed, and begin to narrow the gap between demand and supply. That often benefits users by providing more options for space to lease and tempering lease-rate increases. CBRE anticipates that developers in the U.S. will deliver 173 million square feet of industrial space in 2016 and 172 million in 2017 after delivering 158 million in 2015.

"The industrial market is forecast to remain healthy for the next several quarters as the fundamentals move closer to equilibrium," Havsy said.
Companies in this article