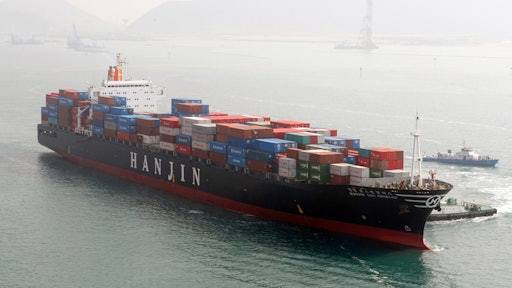 South Korea's Hanjin Shipping Co. Ltd. is selling major businesses, including its Asia to U.S. route network, and will receive letters of intent by October 28, the company said.
The sale comes as creditors line up claims less than two months after the company applied for court receivership as the first major shipping line to be dragged down by global industry overcapacity and comparatively low freight rates. The firm had total debt of $5.41 billion as of the end of June, according to its court filing.
Hanjin Shipping received court approval to seek buyers for assets in order to pay back creditors now in the process of making claims until October 25. Its container ship capacity had shrunk to 17th place in global rankings as of October 9, according to shipping data provider Alphaliner.
A spokesman for the Seoul Central District Court overseeing Hanjin Shipping's receivership said assets currently set to be put up for sale include the entire operations of Hanjin Shipping's U.S.-to-Asia routes, such as manpower systems, five container ships and 10 overseas businesses.
To read the full story, please click here.