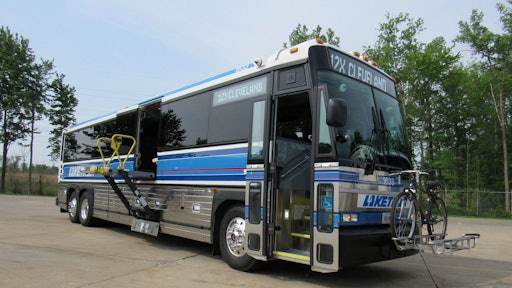 Syncron, a technology provider exclusively focused on service parts management and pricing for global manufacturers, announced the parts distribution division of Motor Coach Industries (MCI), a subsidiary of New Flyer Industries Inc., and the largest bus and motor coach manufacturer in North America, selected Syncron's service parts inventory management solution to help reinvent the way it serves the more than 28,000 in-service motor coaches across the U.S. and Canada.
With nearly 1.7 million passenger miles logged annually in the motor coach industry[1], it's imperative to MCI that its customers experience minimal downtime, and are even able to get ahead of maintenance issues, to keep buses running and passengers in the U.K. happy.
To achieve this, MCI sought a cloud-based service parts inventory management solution that would enable it to optimize service parts inventory levels, specifically reducing new and excess inventory, and help increase its first-time fill rates for spare parts. The company provides 24-hour roadside assistance 365 days a year, so a technology that provides a central approach to inventory—allowing it to see maintenance trends and predictions across multiple locations—is critical to ongoing success.
According to Ben Zubiate, director of materials for MCI, "Everything is based on customer demand and, with multiple warehouses in multiple locations, we want to create a balance between parts availability and excess inventory. With Syncron, we believe we can better serve our customers and ensure the right parts are in the right place at the right time, which is critical to maximizing uptime."
MCI's previous system became outdated. However, the Syncron solution will lead to greater productivity and reduce the amount of manual processes currently in place. The cloud-based solution will act as a single interface, incorporating data from multiple sources, and provide the MCI team with complete visibility into where repairs are occurring, what parts need to be ordered, and trends and predictions for future issues. Additionally, Syncron integrates seamlessly with the company's enterprise resource planning (ERP) system, the IBM AS400.
"For companies to succeed today, they must quickly react to customers' needs and expectations," said Johan Stakeberg, head of global sales and president, U.S., at Syncron. "We are thrilled to have MCI on board, and are excited to work alongside it to not only improve its customer experiences via fast, reliable service repairs, but also help improve margins and return on investment (ROI)."
As MCI continues to become more sophisticated in its approach to services and repairs, the company will work with Syncron to ensure all of its buyers are trained on the solution and that it is being used to its fullest potential—guaranteeing fill rates increase and excess inventory decreases.
[1] http://www.buses.org/aba-foundation/research-summary/size-and-scope
Companies in this article