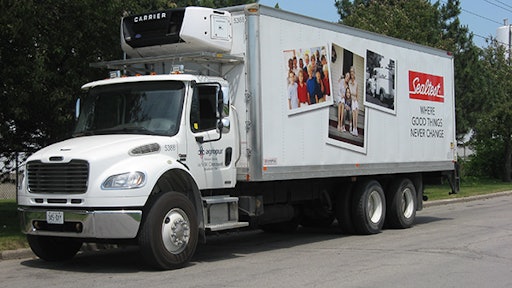 Dallas, Texas— August 5, 2014—Paragon Software Systems, Inc., a provider of vehicle routing and scheduling optimization solutions, announced that Agropur, a Canadian provider of dairy products and a player in the North American dairy industry, selected its Multi Depot planning software to optimize its fixed route operation that sees hundreds of vehicles moving fresh dairy product throughout Canada every week.
Agropur's software installation includes street-level mapping for Canada, plus Paragon's Territory Optimizer module to help create compact territories with balanced workloads. Paragon's Multi Period Planner option is going to be applied to the newly created territories to help streamline delivery frequency. Agropur gains more efficient truck routes and schedules that can reduce total transportation costs.
"We are excited to begin working with Paragon Software Systems to optimize our delivery routes and schedules," said John McClymont, manager of retail distribution and process improvement at Agropur.
"Paragon software not only delivers a quick return on investment (ROI), but also helps improve customer service by meeting required schedules, plus better utilizes a driver's time by avoiding traffic delays and idling situations," said William Salter, president and CEO, Paragon Software Systems. "We look forward to Agropur's success for streamlined delivery routes, reduced mileage and lowered costs."
Paragon's Multi Depot software looks at Agropur's operation as a whole to simplify planning and reduce overall mileage. Paragon's Multi Period Planner can help Agropur decide the best delivery patterns for each customer to ensure delivery requirements are met while minimizing costs.
Paragon's Territory Optimizer utilizes street-level maps and true road-based journey calculations to accurately calculate workloads to reduce overall mileage, travel time and transportation costs. Paragon delivers street-level details, such as roads, bridges, over and underpasses, one-way roads, etc. that can affect delivery times. Paragon software considers these details when planning routes and schedules to ensure the most efficient routes that meet customer delivery schedules at optimal cost.
Companies in this article