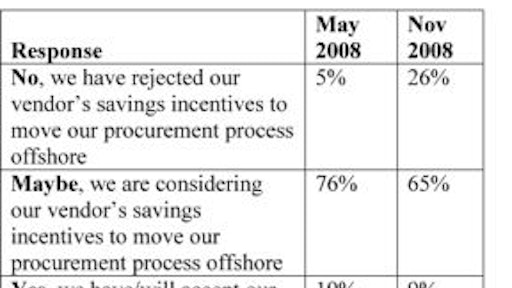 Clearwater, FL — November 25, 2008 — Chief financial officers and top procurement executives in the United States and U.K. increasingly are looking to domestic providers of procurement outsourcing services, even as they seek to expand their use of business process outsourcing (BPO) to reduce costs, according to the latest "Black Book of Outsourcing" report from
Brown-Wilson Group
.
Seventy-four percent of U.S. CFOs and procurement executives in a recent survey by Brown-Wilson said that they would have a preference for domestic BPO service providers. One well-known American corporation went as far as to state that it would not consider bids from vendors with more than half of their workers employed offshore, regardless of whether they were U.S.-headquartered, according to Brown-Wilson.
Why is protectionism hitting the procurement outsourcing sector so hard?
"Procurement leaders have always been notorious for having stanch watchdogs at the company gate, and demonstrating responsible protection of corporate assets is inherent in their DNA," suggested Scott Wilson, partner at Brown-Wilson. "However, national protectionism in terms of swaying decision makers away from offshore outsourcing is indicative of the underlying sentiments of the American electorate, and it is working its way into BPO buyer decisions."
The Black Book study estimates that the worldwide procurement BPO market, expanding at a compound annual growth rate (CAGR) of 27 percent to reach $2.2 billion by 2010, offers U.S. and U.K. procurement vendors with "homeshore," or domestic-based, professional employees a "major opportunity," according to Wilson.
In the May 2008 Black Book user survey, 340 U.S. and U.K. BPO clients reported they were openly solicited by their vendors to consider higher savings by transitioning current work processes, including procurement services to India and other low cost locations from their current homeshore delivery centers.
In November 2008, the same 340 survey participants were asked whether, with growing U.S. and U.K. sentiments against offshore outsourcing and rising protectionism, they believed that their organization would "lift-and-shift" procurement processes offshore in 2009.
The number of respondents indicating that they rejected the vendor's savings incentives to move their procurement process offshore rose from 5 percent in May to 26 percent in November. The number that said they had accepted the vendor's offshore offer fell from 19 percent to 9 percent in the same time frame. (See Table 1.)
Kneejerk No More
Outsourcing buyers' kneejerk reaction to save money by sending their BPO services to low-cost countries is no longer automatic, Wilson said. "In the past six months, a major shift forcing considerable thought toward homeshore alternatives is slowing Indian PO growth, although many offshore vendors who have access to cash are still ramping up more complex PO operations," he said.
As Black Book Research reported in 2007, the majority (76 percent) of prospective BPO clients manifested their most driving preference to be with procurement outsourcers with end-to-end service offerings, regardless of location. The insight has prompted dozens of BPOs to bolster their PO offerings to include direct spend, indirect spend, sourcing advisory, category management and transaction services on a more competitive level through 2008.
Offshore vendors' link to success may be adjusting to long sales cycles, an exacting buyer base, mounting vertical expectations and increasing responsiveness from the U.S. sentiment of anti-offshoring PO. "In 2009, procurement outsourcing appears will be a much more difficult sell for offshore-centric vendors to U.S. and U.K. businesses," Wilson said.
ICG Commerce, XChanging Seen Strong
U.S.-based ICG Commerce and the U.K.'s XChanging produced the strongest client satisfaction and experience scores of all global vendors in the 2008 user survey of procurement outsourcers and are likely beneficiaries of the homeshore bandwagon in PO, according to Brown-Wilson.
Aggressively oriented by current protectionist sentiment, 92 percent of U.K. and U.S. procurement outsourcing clients affirm they will reconsider homeshore vendors with strong partiality when current offshored contracts expire. (See Table 2.)
From a vertical perspective, the majority of procurement BPO spending will continue to be driven by a few industries in crisis: banking, insurance, manufacturing, financial services and retail.
In addition, the Black Book study reveals the potential for maturing adoption of procurement BPO in verticals such as healthcare providers, non-profit and government. These sectors, with greatest possible gains for vendors, are almost exclusively homeshored, Brown-Wilson noted.
The Black Book of Outsourcing, in its sixth year, surveys client outcomes of outsourcing users and management globally, compiling competitive intelligence and performance data on more than 4,500 vendors from 200,000 user experiences.
Related Links
Related Stories — Procurement BPO
Related Podcasts