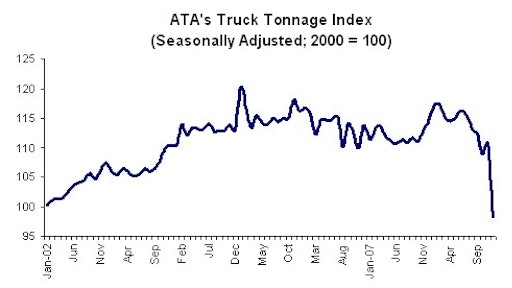 Arlington, VA — January 27, 2009 — The American Trucking Associations' advanced seasonally adjusted For-Hire Truck Tonnage Index plunged 11.1 percent in December 2008, marking the largest month-to-month reduction since April 1994, when the unionized less-than-truckload industry was in the midst of a strike.

December's drop was the third-largest single-month drop since ATA began collecting the data in 1973. In December, the seasonally adjusted tonnage index equaled just 98.3 (2000 = 100), its lowest level since December 2000. The not seasonally adjusted index edged 0.6 percent higher in December.

Compared with December 2007, the index declined 14.1 percent, the biggest year-over-year decrease since February 1996. During the fourth quarter, tonnage was down 6.0 percent from the same quarter in 2007.

ATA Chief Economist Bob Costello said the December reading confirms that the United States is in the thick of a recession. "Motor carrier freight is a reflection of the tangible-goods economy, and December's numbers leave no doubt that the United States is in the worst recession in decades," Costello said. "It is likely truck tonnage will not improve much before the third quarter of this year. The economy is expected to contract through the first half of 2009 and then only grow slightly through the end of the year."

Trucking serves as a barometer of the U.S. economy, representing nearly 70 percent of tonnage carried by all modes of domestic freight transportation, including manufactured and retail goods. Trucks hauled 10.7 billion tons of freight in 2006. Motor carriers collected $645.6 billion, or 83.8 percent of total revenue earned by all transport modes.

ATA calculates the tonnage index based on surveys from its membership and has been doing so since the 1970s. Each month, ATA asks its membership the amount of tonnage each carrier hauled, including all types of freight. The indexes are calculated based on those responses.

The American Trucking Associations is the largest national trade association for the trucking industry. ATA represents more than 37,000 members covering every type of motor carrier in the United States.