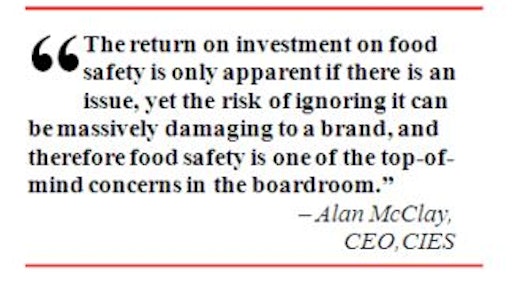 Paris — February 11, 2009 — The number one priority for the food industry in 2009 is the dip in consumer demand in the face of broad economic downturn, with corporate social responsibility slipping down the list as more immediate business issues weigh, according to the latest "Top of Mind" survey from
CIES
, the global food business network.
The survey was based on a sample of nearly 600 retail and manufacturing decision makers across food and consumer goods industries in 54 countries. In its 14th year, the CIES Top of Mind survey, offers insight into the top priorities of food business leaders around the world.
This year's survey found that economic and consumer demand issues atop the executive agenda, up from number four in 2008. For the second year running, food safety was the number two concern.
"The return on investment on food safety is only apparent if there is an issue, yet the risk of ignoring it can be massively damaging to a brand, and therefore food safety is one of the top-of-mind concerns in the boardroom," said Alan McClay, CEO of CIES. "With today's global sourcing, this becomes even more imperative, which is why even global competitors work together through the Global Food Safety Initiative (GFSI) to improve food safety standards."
The number three concern this year is corporate responsibility, missing second place by only 0.5 percent. Many industry observers have asked whether the best laid sustainability plans of corporations would survive in a downturn. This survey suggests that it can indeed survive in a global recession.
"Speakers at recent CIES events have explained how sustainability programs, such as Marks & Spencer's 'Plan A', have been designed and implemented not as secondary projects but as filters through which all corporate decisions must pass. The survey result bears this out," said McClay.
Industry Responds to Recession
Businesses in all sectors across the globe are up against financial challenges as a result of the credit crunch, with exposure to volatility in currency value and stock prices adding to the current complexity. Retail and fast-moving consumer goods (FMCG) companies, however, face additional challenges.
The downward pressure on price associated with a recession coincides with upward pressure on the cost of raw materials in food and significant changes in consumer spending patterns, particularly away from non-food and, to some degree, away from national brands. Retailers must therefore reevaluate their assortments and the size and scale of their store networks.
CIES is seeing its retail members taking steps to limit cost risk in "over-retailed markets" via store closures where necessary and efficiencies or downsizing in operational, logistics and back-office functions. They are also taking steps to address margin imbalance by increasing their private label activities.
This presents a knock-on risk for brand manufacturers. Indeed the latter group is now debating its business model, exploring the choice between brand owner with outsourced production or food manufacturer without a brand portfolio, allowing for entry into the private label manufacture business.
The economic news is not all bad, however. While the U.K., for example, is deeply affected by the credit crunch and currently grappling with recession and a dwindling currency, the food retail sector posted jubilant results over the December trading period, in spite of massive price cuts.
While some premium players such as Marks & Spencer and Waitrose are suffering during the downturn, the big four supermarket groups made bullish announcements of job creation during 2009. Only last week, the Wal-Mart-owned U.K. store chain Asda announced it would be creating 7,000 new jobs this year. Grocery retail can therefore be a serious community employer and consumer advocate, even when the chips are down.
Further Down the 2009 Rankings
Further down the priorities uncovered in the Top of Mind survey, the "competitive landscape" climbed up five places from nine last year to claim fourth place this year. According to CIES, the jump reflects a dual imperative: the recession creates increased price competition among grocers, while the ever-pressing need to differentiate and gain loyalty is intensified by the share gains achieved by discount retailers such as Aldi and Lidl.
The "retail/brand offer" jumped up three places to the number five position. Along with price, format and assortment innovation is crucial. Brand manufacturers are challenged to stay compelling to consumers seeking cheaper alternatives via store-brands.
Consumer marketing jumped three places to rank eighth, indicating that the industry is placing greater emphasis on two-way communication with its consumers: a healthy response to the fall in consumer confidence that has accompanied the financial crisis.