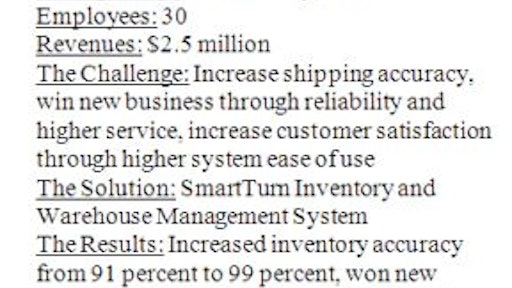 As a "last-mile" third-party logistics (3PL) provider, Panama City, Fla.-based AAdvantage northAmerican provides warehousing and moving services for big and heavy products that nobody else can. Like any growing business, it could not afford costly errors for clients like Sears, Amazon.com and the Emmy Awards.
In addition, AAdvantage needed a system to help win new business with clients like Trane through higher service levels, especially around part and small box quantity picking, more efficient warehousing operations and increased customer satisfaction through higher system ease of use.
Key Challenges
Until recently, AAdvantage was able to get by with a paper-based system and hard work. But increasing demands from customers for real-time inventory and shipment visibility prompted the company to search for a warehouse management system (WMS).
"We've been in the 3PL business since 1987 and prior to that as a moving company, and after finally deciding to adopt a WMS we were disappointed to find out that most solutions wanted $10,000 to $20,000 upfront to just do an evaluation," says Juddy Harris, delivery and warehouse manager for AAdvantage northAmerican.
As part of its requirements, the company wanted its clients to have their own remote login, which prompted AAdvantage northAmerican to look for a Web-based, "pay-as-you-go" system, according to Harris. "We also needed a system that would allow us to deploy Windows CE mobile handhelds out of the box, as well as having a Web interface for both ourselves and our clients."
Another key challenge for AAdvantage was finding a system that would help to avoid errors that could cost a key customer thousands of dollars in high-value items. The warehouse team needed to begin doing frequent cycle counts and integrate closely with the company's partners in order to identify discrepancies.
All of this had to be easy to deploy, learn and run. In order to minimize disruptions to their ongoing business, AAdvantage needed the new system to be up and running in less than a month. "Most of all, we wanted a solution that was easy to implement and integrate into our existing IT, and it had to be scalable with our growing business needs," Harris says.
Plan-Configure-Run
After doing extensive research, the AAdvantage team chose a WMS from SmartTurn, a San Francisco-based provider of inventory and warehouse management solutions. Among the reasons that the company went with SmartTurn is that the enabler provides an on-demand delivery model that allows for more frequent and transparent upgrades. Additionally, AAdvantage was able to customize the system to access real-time inventory reports, implement easy mobile cycle counts and provide a simple Web-based interface for its customers to gain access to inventory visibility.
"I had no experience in running a warehouse management system [but] it was easy to get going, and only took us a few hours to start a new warehouse implementation with SmartTurn's flexible configuration, and the price point was exceptional," says Harris. "I had to do very little work, and the experience was painless."
SmartTurn says its "plan-configure-run" process helps customers gather the right data and expose business process priorities early, so that customers can both manage and improve their warehouse performance and inventory accuracy. SmartTurn offers various options to allow efficient transfer of information between systems ranging from Quickbooks to SAP.
Additionally, SmartTurn says its "customer experience management" teams are seasoned warehouse systems operators who can train and coach customers if needed on WMS best practices, as well as conduct ongoing system health checks. Harris says that a dedicated customer experience manager from SmartTurn walked him through the initial setup. "There were a few glitches, but I feel I have total control, and SmartTurn listens to my requests," he says.
Winning New Customers
With the new WMS system deploy, AAdvantage northAmerican has been able to increase inventory accuracy from 91 percent to over 99 percent accuracy. By implementing SmartTurn's Web-based viewing capabilities, AAdvantage also was able to help win a new key customer and reduce shrinkage to just one item in a quarter, effectively reducing their client's shrinkage from $40,000 to just $100. Additionally, discarding cumbersome handwritten paperwork prone to typos and multiple data entries for the same item directly led to the reduction of errors.
"Our sales teams always show our new visibility capabilities to prospective customers. Also, by improving the quality of our service, we are seeing better customer penetration since other groups, like purchasing, now have access to accurate information," Harris says.
"My life is made easier," he adds. "It used to take me a whole day to bill clients; now it only takes me 30 minutes. Billing is a snap, no more typing; just a click does the job. We can bill on a daily basis now instead of monthly...and it works!"
About the Author
: Richard Yim is vice president of products at San Francisco-based SmartTurn, a provider of on-demand inventory and warehouse management solutions. He leads the company's supply chain innovation group and has more than two decades of software and logistics experience, serving in senior positions with companies including SAP, Oracle and Symantec. For more information, please visit
www.smartturn.com
.
Companies in this article