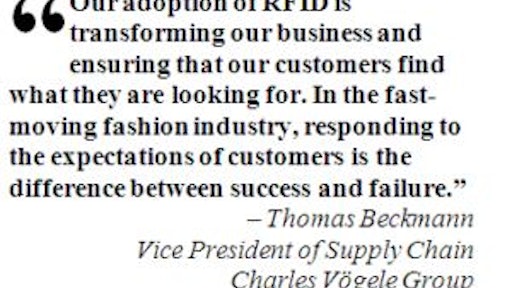 August 12, 2009 — When IDTechEx first published the popular report "Apparel RFID 2009-2019," it was able to profile 60 brand owners and retailers involved, as well as detailing many uses throughout the apparel supply chain, including the widespread use of RFID in laundry.
In 2009, however, adoption has accelerated, particularly for brands and retail. Avery Dennison has landed most of the tag orders in the past, and it is involved in the trial at a Harvey Nichols store in London that uses Motorola interrogators, as well as in other U.K. retail trials.
However, many suppliers are seeing success in 2009, and the phenomenon is now truly global, with local system integrators usually involved. For example, U.S. brand Ralph Lauren is trialing woven RFID tags in its merchandise in China as an anti-counterfeiting measure. Here are some other examples from the United States to Europe, Turkey, the Middle East, India and Japan, and including shoes, jewelry, designer wristwatches and other accessories.
Krause Outlet
Krause Outlet stores and sells off-season men's and women's brand-name fashions that it buys from retailers. That can mean individual items rather than full sets of all sizes and colors of a particular garment. In 2009, an RFID system now displays information regarding each garment in store windows, so shoppers can use mobile phones to reserve the clothes and then purchase them from a vending machine instead of waiting two weeks as in the past.
Customers view articles of clothing on a rotary rack. As each item reaches the window, the rack stops and turns it around 180 degrees and a nearby RFID interrogator reads the passive high-frequency (HF) tag attached to the garment. The tag's unique ID number is linked to data regarding the item, as well as its picture, so related information and the picture are presented on a computer screen in the store window.
To buy or reserve the garment the customer calls a hotline and punches in the item's four-digit code. Customers can also buy clothing directly from the vending machine. About 2,000 tags from X-Ident Technology of Germany are used. Readers and antennas were provided by Feig Electronic.
Charles Vögele
Charles Vögele Group is a major independent European fashion retailer, with 851 branches in Switzerland, Germany, Austria, Belgium, the Netherlands, Slovenia, Hungary, Poland and the Czech Republic. It has 70 million garments sourced annually from more than 400 suppliers and distributed to 34 consolidation hubs throughout Asia and Europe.
In 2009, it was announced that the company has implemented a Checkpoint Systems Merchandise Visibility system to RFID-enable its whole supply chain. The RFID covers point-of-manufacture to point-of-sale, using standard EPC Gen 2 labels. Paybacks include improvement in inventory replenishment, reduction of out-of-stocks and better on-hand inventory. Charles Vögele can now track and trace individual garments along its entire supply chain. This capability enables retailers to reduce logistics errors automatically, and it can ensure that its most popular lines are always in stock and on display.
The company's vice president of supply chain, Thomas Beckmann, said: "Our adoption of RFID has transformed and improved our operations from source to store. We have begun streamlining our operations and supporting our sales in ways that simply were not possible before; in many ways this marks the beginning of a retail revolution. Our adoption of RFID is transforming our business and ensuring that our customers find what they are looking for. In the fast-moving fashion industry, responding to the expectations of customers is the difference between success and failure."
Eren Holding
Eren Holding is a diversified conglomerate that manufactures and distributes high-end garments, with such prestigious brand names as Lacoste, Burberry, Calvin Klein, Coach and Blank. It operates 88 dedicated fashion retail stores throughout Turkey, and it manufactures and distributes close to 2 million garments per year.
Eren Holding had a need to enhance its supply chain traceability process and reduce inventory control/labor costs, so it approached system supplier Alien Technology, which has completed five similar projects in Europe to date, and local systems integrator STS for a complete hardware and Oracle-based software solution. STS provided an Oracle-based software solution that provides complete traceability of the tagged articles from the point of manufacture to inventory control at the retail level.
Ejder Altiparmak, director of brands at Eren Holding explained: "In the past, it would take four dedicated personnel more than four hours to conduct a typical inventory control per store, but now after the introduction of STS and Alien's RFID item level tagging solution, it takes only two people about 20 minutes to conduct a complete inventory check. This increased control over what's on the shelf greatly reduces out-of-stocks, which leads to better sales turnover."
Serge Blanco
TAGSYS, a top provider of item-level RFID infrastructure, has deployed its complete "RFID for Fashion" solution for French retailer Serge Blanco to optimize its supply chain and improve item-level tracking from factory, through distribution, to the point of sale.
With over 1 million items of clothing moving through the supply chain each year and a growing business, Serge Blanco was determined to optimize its operating efficiency at its distribution center and retail stores. After considering enlarging its distribution center and docks, Serge Blanco, always at the forefront of new technologies, opted for the deployment of the TAGSYS RFID solution. The company deployed the solution in early 2009 and plans to expand it over its entire retail network throughout 2010.
"After having conducted a study among other clothing retailers, such as Boboli and Throttleman, two end users of the TAGSYS RFID system, we decided to go for the same solution," explains Mathieu Pradier, vice president of operations at Serge Blanco. "We found the TAGSYS solutions to be the most complete, most mature and easiest to integrate with our existing processes."
Bhima & Brothers Jewellers and Mitsukoshi
Indian jewelry retailer Bhima & Brothers Jewellers is tracking high-value inventory, providing customers with immediate information regarding its jewelry, with an HF RFID system deployed in February 2009 by MphasiS at one of its five stores, along with Assa Abloy tags and Feig and Brooks Automation interrogators.
Inventory now takes not 36 man-hours but one. Time to complete a sales transaction dropped from six to eight minutes to less than one.
In addition, 100 percent inventory accuracy and correct product information to customers have been achieved. At 10,000 items per store, inventory count was restricted to only the most valuable goods and an average total net gold weight in the store. Now full inventory is easily carried out and sales people have more quality time with customers.
Mitsukoshi and Hankyu Department Stores, New Balance, Reno
Mitsukoshi and Hankyu Department Stores in Japan are RFID tagging footwear using NTT Comware middleware. An RFID demonstration conducted in a women's shoe department proved it could improve the quality of service. Mitsukoshi rolled out this system at its Nihonbashi Main Store, and Hankyu Department Stores began at its Umeda Main Store women's shoes section. Mitsukoshi also has undertaken a trial embedding RFID tags on Shiseido cosmetics to create what the companies call the "department store of the future."
New Balance sells nearly 40 million pairs of shoes a year. It has implemented an item-level RFID solution to track footwear from distribution center to retail store using Sensormatic Retail Solutions' TrueVue, tags from Avery Dennison and Motorola interrogators. Greater inventory visibility and item level accuracy above 99.5 percent resulted.
Reno GmbH, one of Europe's largest shoe companies, is based in Germany and operates more than 700 stores in 15 countries. Parent Hamm-Reno-Group GmbH & Co KG (HR Group) has more than 1,700 outlets across Europe. It will embed RFID in shoes sold at hundreds of stores. Checkpoint Systems provides the RFID tags, including wafer-thin RFID chips designed especially for shoes from its Asian production facilities. In addition, it will supply systems that allow checkout clerks to deactivate tagged shoes. Reno also is looking to curb theft. The company has been using RFID technology to track product shipments from its factories to its stores for several years, and tracking individual products is the logical next step.
Damas, The Jewelry Store, DeGrisogno
Damas stores and The Jewellery Store in the United Arab Emirates are using RFID on jewelry for security and tracking purposes. DeGrisogno in Switzerland is doing the same with watches and jewelry using TAGSYS systems, and WinWatch and other watchmakers in Switzerland also tag parts and watches with RFID.
At IDTechEx's
RFID Europe event
, to be held in Cambridge, England, September 29-30, RFID in fashion will be covered by GCS Consulting of Germany, which works with many major brands, and the U.K. firm BT, which has worked on the largest project in the space, at Marks and Spencer, among others. The conference agenda will look at various technical advances and new regulatory initiatives, as well as the book in RFID in East Asia, not least in apparel manufacture and sale, The co-located Smart Card Networking Forum will offer a peak into the latest developments in RFID cards used in retailing and elsewhere. More information at
www.IDTechEx.com/RFIDeurope
.