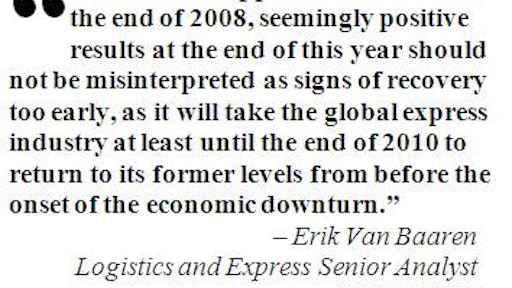 London — August 26 2009 — Positive economic indicators coming out of Europe, Asia and the U.S. over the last 10 days give reason to forecast a recovery in the global logistics and express industry, but a rebound in global freight and parcel volumes and revenues will only come with major improvements in consumer confidence, industrial output and subsequent international trade volumes, according to new research by market analyst
Datamonitor
.
Major Economies Rebounding
German exports, which have traditionally driven the country's economic growth, surged by 7 percent in June compared to the previous month, representing the fastest such growth in almost three years. Imports were also up by 7 percent month on month. As a result, the German economy has now exited the recession, recording 0.3 percent overall growth between April and June. With France matching this performance, Europe's two largest economies have rebounded from a 12-month period of recession.
Such positive signs have not been exclusive to Europe. After four quarters of negative growth, Japan exited recession in Q2 after its economy grew 0.9 percent. Hong Kong also recorded growth, notching up 3.3 percent in the same period. In the U.S., the IMS manufacturing survey rose in May, and specifically the new orders index rose above the threshold for growth for the first time since December 2007. This indicates a swing in industrial production levels from steep contraction to flat or even modest expansion.
Both Japan and China have been boosted by rising domestic consumption and government stimulus plans. In China, the government's stimulus plan helped spur growth in Q2 of 7.9 percent (an increase of 1.8 percent from the first quarter) and a rise in retail sales in June of 15 percent. Japan suffered with particularly negative results in Q1 when exports were badly affected by the economic downturn. Government stimulus measures totaling $260 billion, including cash handouts to stimulate spending, are thought to have kick-started the economy. Japanese manufacturers also benefited from recovering demand in China and other markets, with overall exports up 6.3 percent during the quarter.
However, such stimulus-driven growth cannot last forever, and it is difficult to find evidence of any impact on the logistics and express industries, as Asia's export dependent markets are still suffering from the slump in spending in Europe and North America. Once the stimulus budgets are spent, new sources of growth will be needed, and as logistics and express companies' volumes are coming from such low levels, a real recovery still seems a long way away, says Erik Van Baaren, Datamonitor logistics and express senior analyst.
"We have seen the year-on-year decline in air freight volumes at Hong Kong International Airport, the world's busiest air cargo hub, ease in July, with volumes down just 8.4 percent, representing the smallest monthly decline since September last year," Van Baaren said. "Year-to-date volumes are still down 19.6 percent, however, signaling that there is a long road to recovery still."
Not All News Is Good
In the meantime, Orient Overseas Container Line announced a 17.2 percent drop in container liftings in the first half of 2009 compared to the same period in 2008, and Japan Airlines reported a 56 percent decline in cargo revenue in its first quarter. Away from Asia, the latest figures from the European Liner Affairs Association indicate ongoing decline in transatlantic container volumes and revenues. "Ultimately, it seems small glimmers of hope in economic performance are making little impact on the volumes and revenues of the logistics and express industry so far," Van Baaren says.
There are also some very negative reports to dampen any optimism creeping into the minds of the industry executives. The so-called barometer of world trade, the Baltic Dry Index recently plunged 17.2 percent, representing the worst week for the index since the deep crash of October 2008, as Chinese demand for steel and coal slowed and stalled price negotiations took effect. In addition, the International Energy Agency issued warnings that oil prices above the current levels of $70 per barrel could dampen nascent economic recovery.
There are also signs that some economies are "arriving late" to this recession. Russia's economy, for example, shrank by a sharper than expected 10.9 percent in the second quarter of this year having been hit by a slump in world demand and weaker prices for its oil and commodity exports.
While economic growth is a key indicator of growth in logistics and express markets, the steep decline in volumes over the past 12 months means that the industry is coming from a very low base and so will need significant and sustained periods of improving macroeconomic factors to have a noticeable impact on logistics and express volumes, Van Baaren says. "A significant upturn in parcel and freight volumes, combined with the improved performance of logistics and express companies will therefore not be realized until late this year, or even early 2010," he predicted.
On a global level, volumes in the courier, express and parcels industry diminished considerably in the second half of 2008 and the first half of 2009 due to the impact of the global economic recession, as it led to a decrease in global trade and lower consumer demand, Datamonitor reports. This changed organizations' supply chain design and selection of express services in order to minimize their distribution costs, leading to a shift from air to road as customers switched from premium to more economy-type products. This shift severely impacted the value of almost all countries' express markets, especially in the air premium (express) segment, which was further impacted by lower fuel surcharges decreasing yields in air express services.
By the end of 2008 the downturn had gradually affected the wider express market, reaching its lowest point in the first part of 2009. The integrators (DHL, TNT, UPS and FedEx) all reported substantial negative declines in their volumes and revenues at the end of the second quarter, although the decline was bottoming out.
However, as outlined in Datamonitor's recently published report "Global Express Through the Economic Downturn," Van Baaren says, "Given what happened to volumes at the end of 2008, seemingly positive results at the end of this year should not be misinterpreted as signs of recovery too early, as it will take the global express industry at least until the end of 2010 to return to its former levels from before the onset of the economic downturn."
Datamonitor plans to explore the impact of the economic downturn on different areas of the logistics and express industry and the anticipated shape of the recovery in a series of reports due to be released over the next couple of months.
The "
Global Express Through the Economic Downturn
" report, available for $4,990, provides an overview and analysis of the global express market. It contains estimates of the size of the markets broken down by region and segmentation (weight, mode of transport, service level, recipient and destination). It also answers questions relating to the impact of the current economic dynamic on different express markets and highlights areas of opportunity.