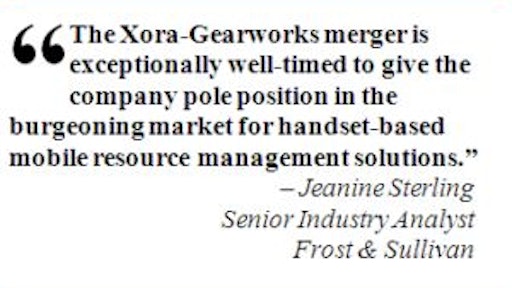 Mountain View, CA — August 26, 2009 —
Xora
and
Gearworks
, two providers of location-based mobile business applications, have merged, forming a new company that will retain the Xora name and will be servicing more than 16,000 customers around the world.
The combined company will have a wireless carrier distribution footprint that includes partnerships with
Sprint Nextel
,
Verizon
,
AT&T
,
Telstra
,
US Cellular
,
Cbeyond
and
Procall
. In addition to wireless carrier partnerships, Xora also provides location-based mobile time clock and data collection solutions for companies that offer time and labor management (TLM) and payroll services.
The combined product portfolio will consist of Xora's GPS TimeTrack suite of products and Gearworks' Field Force Manager, etrace, OnCare and Appmosphere offerings.
The transaction puts Xora in a position to capitalize on the growing market for handset-based mobile resource management applications globally, and especially in North America, where the market is expected to reach 5 million subscribers and more than $1 billion in annual recurring software revenue by 2015, according to
Frost & Sullivan
, an industry analyst firm that tracks mobile and wireless communications.
"The Xora-Gearworks merger is exceptionally well-timed to give the company pole position in the burgeoning market for handset-based mobile resource management solutions," said Jeanine Sterling, senior industry analyst for mobile and wireless communications with Frost & Sullivan. "With the most extensive product offering, spanning off-the-shelf to customizable mobile applications, and the broadest carrier coverage in the industry, the new Xora's capabilities are top-tier and should be highly valued by customers of all sizes, as well as by wireless carriers seeking to deliver such applications to their business customers."
Sanjay Shirole, co-founder and CEO of Xora, said that the merger brings together two leaders in the industry that share a common vision around tools that help businesses improve their operational efficiency. "By measures critical to our long-term success, including growth and diversification of revenues, product portfolio, channel partnerships and customer support capabilities, this merger is a big win not only for us, but also for the customers and partners of the new combined company," Shirole said.
As part of this transaction, venture investors from both companies, including
Dawntreader Ventures
,
BlueStream Ventures
,
Split Rock Partners
and
Rho Ventures
, all have made additional equity investments totaling $8.5 million dollars. In addition, Patrick Wack, former CEO and currently chairman of
Intralinks
, a pioneer in the software-as-a-service space, will join the Xora board of directors.