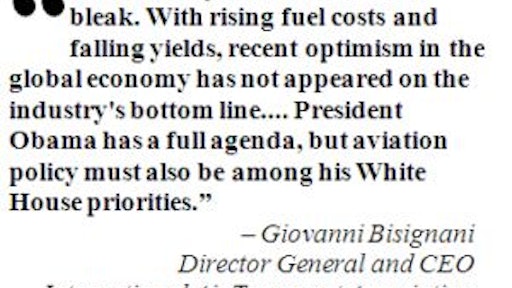 Washington, DC — September 15, 2009 — Airline losses this year are likely to total a worse-than-expected $11 billion as rising fuel prices and exceptionally weak yields hit carriers already reeling from the worst economy in 60 years, according to a revised global financial forecast from the International Air Transport Association (IATA).

The new estimate for losses this year is $2 billion worse than the previously projected $9 billion loss. Industry revenues for the year are expected to fall by $80 billion (15 percent) to $455 billion compared with 2008 levels, according to IATA, which represents some 230 airlines comprising 93 percent of scheduled international air traffic.

IATA also revised its loss estimates for 2008 from a loss of $10.4 billion to a loss of $16.8 billion. This revision reflects restatements and clarification of the accounting treatment of very large revaluations to goodwill and fuel hedges. IATA industry profit figures strip-out such extra-ordinary items, which are not realized in cash terms.

"The bottom line of this crisis — with combined 2008-9 losses at $27.8 billion — is larger than the impact of 9/11," said Giovanni Bisignani, IATA's director general and CEO. Industry losses for 2001-2002 were $24.3 billion, according to the organization. "This is not a short-term shock," Bisignani continued. "Eighty billion dollars will disappear from the industry's top line. That 15 percent of lost revenue will take years to recover."

He added that conserving cash, careful capacity management and cutting costs will be the keys to survival for airlines. "The global economic storm may be abating, but airlines have not yet found safe harbor. The crisis continues," said Bisignani.

Oversupply & Demand

Three main factors are driving the expected losses, according to IATA:

Demand: Passenger traffic is expected to decline by 4.0 percent and cargo by 14 percent for 2009 (compared to declines of 8.0 percent and 17 percent respectively in the June forecast). By July, cargo demand was -11.3 percent and passenger demand was -2.9 percent. While both are improvements over the lows of -23.2 percent for cargo (January) and -11.1 percent for passenger (March), both markets remain weak.

Yield: Yields are expected to fall 12 percent for passenger and 15 percent for cargo, compared to declines of 7 percent and 11 percent respectively in the June forecast. The fall in passenger yield is led by the 20 percent drop in demand for premium travel. Cargo utilization remains at less than 50 percent despite the removal of 227 freighters from the global fleet. There is little hope for an early recovery in yields in either the passenger or cargo markets.

Fuel: Spot oil prices have been driven up sharply in anticipation of improved economic conditions. Oil is now expected to average $61 per barrel (Brent) for the year (up from $56 per barrel in the June forecast). This will add $9 billion in cost for a total expected fuel bill of $115 billion.

"The optimism in the global economy has seen passenger and freight volumes rise, but that is the only bright spot," said Bisignani. "Rising costs and falling yields have squeezed airline cash flows. The sharp decline in yields will leave a lasting mark on the industry's structure. And revenues are not likely to return to 2008 levels until 2012 at the earliest."

Bisignani added that with cash flows substantially down over the first half of the year, the situation is critical. Larger carriers have built-up cash reserves of $15 billion — a war chest that is warding off a major cash crisis. But the outlook for small and medium sized carriers, which have limited options to raise cash, is much more severe, he said.

Regional Variations

The regional picture is varied:

North American carriers are expected to post losses of $2.6 billion, more than double the previously forecast loss of $1.0 billion. Early resizing of capacity matched the slump in demand. But yields remain weak and recovery in travel demand is being held back by high levels of debt and unemployment.

European carriers are expected to post the largest losses at $3.8 billion. This is also more than double the previously forecast $1.8 billion loss. Key long-haul markets were hit by the world trade collapse and delays in relaxing slot regulations prevented a timely reduction in capacity.

Asia-Pacific carriers will post losses of $3.6 billion, similar to the $3.3 billion previously forecast. Worst hit by the recession and fuel hedging losses at the end of 2008, the region's carriers are the first to benefit from reviving Asian economic growth and the modest restocking of inventories in the West.

Latin American carriers are expected to break even, an improvement from the previously forecast loss of $0.9 billion and the best performance among the regions. Airlines in this region are benefiting from more robust economies and less of the consumer debt headwind seen in North America.

Middle East carriers will also see an improved outlook, from a loss of $1.5 billion to a loss of $0.5 billion. Airlines continue to gain long-haul market share with expanded capacity and hub connectivity. The weakness of economic recovery, however, could mean continued excess capacity and further losses.

The outlook for Africa's carriers is unchanged, with an expected loss of $0.5 billion. In spite of many economies on the continent continuing to grow during the global recession, African airlines were not able to benefit and lost market share. Further losses are expected in this region next year.

IATA expects losses to continue into 2010, with the industry expected to report a $3.8 billion net loss. This is based on a limited revival of growth in traffic volumes of 3.2 percent for passenger and 5 percent for cargo; very little increase in yields of 1.1 percent for passenger and 0.9 percent for cargo; and oil at $72 per barrel.

Value Chain Must Prepare for Change

"This is not an airline-only crisis," said Bisignani. "There is less cash coming into the industry, and the entire value chain must be prepared for change. All our business partners — including airports, air navigation service providers, global distribution systems — must be prepared to cut costs and improve efficiencies. Some airports have delivered cost reductions, but not in line with the magnitude of the changes to the industry cash flow."

Bisignani said that governments need a wake-up call to create a policy framework that supports a competitive air transport sector capable of driving economic expansion. However, he said that European governments are fixated on using environment as an excuse to squeeze more taxes out of the industry, while the U.S. is not moving fast enough to deliver the critical advantages to competitiveness that "NextGen" air traffic management will bring.

(According to the Federal Aviation Administration: NextGen is an umbrella term for an overhaul of the U.S. national airspace system (NAS), comprising a shift from a ground-based system of air traffic control to a satellite-based system of air traffic management. This evolution is held by the program's proponents to be vital to meeting future demand and avoiding gridlock in the sky and at U.S. airports.)

"We don't want bailouts," Bisignani said. "But we need governments to look more seriously at this sector by (1) investing in efficient infrastructure, (2) replacing the proliferation of environmental taxes with a global solution for the environment and (3) giving airlines normal commercial freedoms to merge where it makes sense and to access markets and global capital like any other business."

Call for Renewed Leadership

In particularly, IATA has called on the new Obama Administration in the U.S. to renew its role as a leader in the global aviation industry and take immediate action to boost the U.S. economy and to make the global system safer and more secure.

Bisignani made his call in a speech to the International Aviation Club of Washington, outlining a prescription to help the US aviation industry recover from a crisis worse than the period following 9/11.

"The industry situation remains bleak. With rising fuel costs and falling yields, recent optimism in the global economy has not appeared on the industry's bottom line. Our future must be built on normal commercial freedoms, effective infrastructure, dedication to safety and environmental responsibility. Government bailouts are not the answer," said Bisignani. "President Obama has a full agenda, but aviation policy must also be among his White House priorities. Putting NextGen on a fast track would provide tremendous stimulus to this country including 77,000 new jobs."

IATA also urged the Obama Administration to deliver broad policy changes in the areas of safety, security, environment and commercial freedoms:

Safety: The global accident rate through August is down 30 percent compared to the same period a year ago. "Getting on a plane is about the safest thing you can do," Bisignani said. "But every fatality reminds us that we must do better."

IATA called for greater cooperation between the U.S. and the International Civil Aviation Organization (ICAO) to break down silos and share safety information and data. "The US also needs to provide leadership based on global standards as the industry addresses the challenge of training aviation professionals. Evidence-based training and multi-crew pilot licensing have tremendous potential," Bisignani said.

Security: IATA outlined three steps the U.S. Department of Homeland Security (DHS) can take in order to improve security and make the system more efficient. "The U.S. must put an end to duplicate and conflicting data collection efforts by coordinating across DHS departments. Stakeholder consultation is essential. And to be effective, the focus must be on harmonized global standards," said Bisignani.

In the area of cargo security, Bisignani warned that the 100 percent deadline for screening set for next year is at risk as the government has not yet certified the required tools to meet the objective.

Warning on Cap and Trade

Environment: Bisignani urged the Obama Administration to work together with industry to reach the industry's goal of carbon neutral growth from 2020. He said that the aviation industry is united behind IATA's "Four Pillar Strategy" of technology investment, efficient infrastructure, effective operations and positive economic measures. Aviation's emissions are expected to fall by 7 percent in 2009 — 5 percent as a result of the recession and 2 percent directly related to the strategy.

U.S. contributions to emissions reductions are critical, Bisignani said. Accelerating the implementation of NextGen air traffic management and creating the fiscal and legal framework to support investments in sustainable bio-fuels are two important steps, he asserted. But Bisignani warned that U.S. proposals to include aviation in cap-and-trade legislation would be counterproductive.

"The U.S. must exempt aviation from its cap-and-trade proposal to give ICAO an opportunity to develop a global sectoral approach. If not, this punitive tax will not only undermine ICAO's work, but it will also contravene the Chicago Convention and compromise the U.S.' ability to object to Europe's unilateral inclusion of aviation in its emissions trading scheme. Environment is a global issue. Only a global solution will be effective," Bisignani said.

Commercial Freedoms: "It has been three decades since the U.S. started the process of domestic deregulation," Bisignani said. "This crisis highlights that we must finish the job," he added, challenging the U.S. to be a leader in the work to reform the more than 60 year-old bilateral system. Bisignani challenged some of the proposals in Congress that he said would be counterproductive to that goal. "Tightening restrictions on alliances and antitrust immunity are protectionist and show a lack of understanding of aviation and how the global economy works. These are symptoms of lost leadership."

Bisignani concluded: "This crisis must be an opportunity to work with governments, including the U.S., to become safer, more secure, greener and profitable."