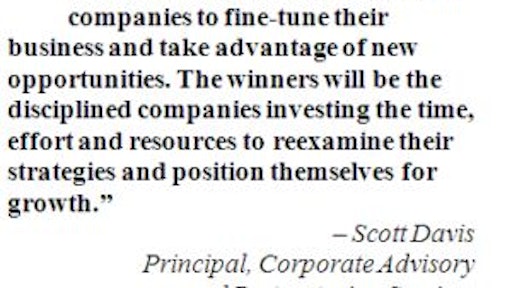 New York — August 28, 2009 — As many as 10,000 retail stores could close by the end of 2009, and companies looking to beat the odds must focus on financial management and process improvement, according to a new report from retail distress experts at consultancy
Grant Thornton LLP
's Corporate Advisory and Restructuring Services (CARS) that reveals the five recession-driven trends transforming the retail sector, along with tips to capitalize on them.
Retailers were faced with their biggest declines at the end of 2008. Now, more than halfway through 2009, consumers still aren't in the mood to spend, says Marti Kopacz, national managing principal with Grant Thornton CARS.
"Falling sales hit all regions of the country and nearly all retail sectors, challenging stores and pushing many to the brink of failure," said Kopacz. "Either retailers are contemplating bankruptcy, have already declared it or are announcing significant reductions."
Among the principle trends driving this sector, according to the Grant Thornton report:
1. Buyers are choosing clicks over bricks
: Consumers may not be buying much, but online sales have suffered less and, in certain categories, have grown more than in-store sales. Retailers are also using social networking sites to expand their business. Balancing and integrating the use of traditional stores and online resources is going to be increasingly important, according to the consultancy, and individual store performance will improve if retailers rely on sophisticated sales analysis to drive their store location planning.
2. Private labels are gaining ground over name brands
: Private labels are growing in popularity and are especially successful in the grocery sector. Nine percent of consumer packaged goods are now private-label brands. Retailers should consider whether their products may be suitable for private-label treatment by reviewing consumers' price consciousness and a product's complexity, Grant Thornton argues.
3. Going green is bringing in the green
: With consumers focused on the environmental impacts of their consumption, sustainability continues to influence customer behavior. This means retailers should review their product lineup strategies and analyze which green products to offer and emphasize. Retailers also need to invest in green practices to cash in on this trend because it's just as important to be green as it is to sell green, the consultancy said.
4. A loyal customer is the best customer
: Loyalty programs produce long-term benefits, and many retailers are inviting customers to wine tastings or fashion shows, providing rewards and discounts, or offering free shipping. The bottom line is retailers are getting more creative with incentives.
Besides discounts, loyalty can be created by offering guarantees and generous return policies, as well as by providing information on how to get the most out of consumers' purchases. Retailers should determine which incentives are likely to attract the best customers and which rewards carry the highest value and increase sales, Grant Thornton suggests. Localization — tailoring product and service offerings to local markets — is producing benefits for those retailers who apply this strategy effectively, according to the consultancy.
5. Improving processes lowers costs and boosts satisfaction
: Retailers have vast potential to cut costs and are experiencing increased efficiency in customer-facing and back-end processes, the report finds. They can do this by reviewing whether buying decisions are based on the best price at high volumes, strengthening inventory management, ensuring suppliers can accommodate process improvements, and focusing on lean operations and waste reduction.
In addition to capitalizing on retail trends, Grant Thornton CARS Principal Scott Davis believes financial management is critical during a downturn and recovery. Retailers, he said, should:
Calculate and assess ROI for pricing and inventory levels;
Determine funding capital for redesigns, new signage or point-of-sale systems;
Reevaluate real estate and leverage information for lease reductions or improvements;
Consider tax ramifications for inventory levels and gift card revenues;
Manage costs by using a structured sourcing approach, ongoing measurement of suppliers and contract compliance.
"Although there's high risk in the retail industry, now is the time for companies to fine-tune their business and take advantage of new opportunities," said Davis. "The winners will be the disciplined companies investing the time, effort and resources to reexamine their strategies and position themselves for growth."
Grant Thornton's full report, "Reviving Retail," is available through the
National Retail Federation
or by visiting www.GrantThornton.com/retail.