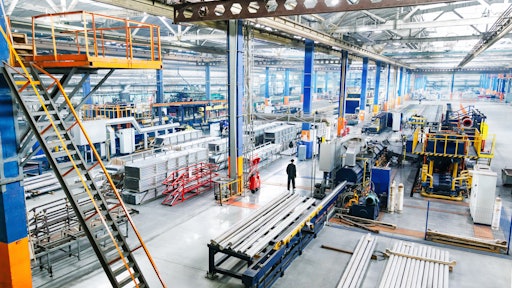 Kostiantyn/stock.adobe.com
The CHIPS and Science Act is helping fuel escalating development, construction and output of U.S.-based chip manufacturing facilities. Maintaining a stable supply chain is vital to supporting this rapid revitalization – particularly for onshore semiconductor equipment, materials and services providers.
The CHIPS and Science Act (Creating Helpful Incentives to Produce Semiconductors for America) comprises three divisions: The CHIPS Act of 2022; the Research and Development, Competition, and Innovation Act; and the Supreme Court Security Funding Act of 2022. The importance of this federal statute – introduced to address growing concerns about the global semiconductor supply chain – cannot be overstated.
Maintaining a stable supply chain in the semiconductor industry is crucial for several reasons:
Semiconductors are integral to a wide range of critical infrastructure elements, including defense systems, communication networks, and transportation systems. A stable supply chain ensures a reliable source of semiconductor components for these essential systems, reducing vulnerabilities to potential disruptions or foreign interference.
Semiconductors are the building blocks of modern technology, and their availability impacts myriad industries, from automotive to healthcare to consumer electronics. A stable supply chain enhances the competitiveness of U.S. companies in global markets by reducing the risk of production delays and cost fluctuations.
A reliable supply chain encourages investments in research and development (R&D) and the construction of advanced manufacturing facilities. This can lead to innovation and the creation of cutting-edge semiconductor technologies, positioning the U.S. at the forefront of the industry.
The importance of maintaining a stable supply chain in the semiconductor industry goes beyond economic considerations alone. It has national security implications, supports economic competitiveness and innovation, creates jobs, and enhances resilience in the face of various challenges. The CHIPS Act and similar initiatives aim to strengthen the U.S. semiconductor supply chain to address these critical concerns.
Most companies that offer semiconductor packaging and assembly capabilities are located overseas, primarily in Asia. Thus, reshoring/onshoring of semiconductor manufacturing creates significant opportunities for U.S.-based providers of these services, while requiring even more vigilance in building and maintaining their supply chains to ensure minimal interruption and maximum stability.
By reducing reliance on overseas suppliers for materials, companies can further enhance the resilience of their supply chains. This is especially important in times of global disruption, such as the recent COVID-19 pandemic, which exposed vulnerabilities in supply chains heavily dependent on a few key regions. Identifying critical components and alternate sources is vital to avoiding supply chain disruptions.
The Necessity of a Secure Vendor List
A rigorous process for ensuring that suppliers qualify for a company's approved vendor list (AVL) is vital. This is especially true with respect to the U.S. aerospace and defense industry, a market for which vendor security must be scrupulously assured. Another factor is the U.S. International Traffic in Arms Regulations (ITAR), which control the manufacture, sale, and distribution of defense and space-related products and services; ITAR constraints prohibit offshore assembly. As such, ITAR registration is another requirement for these customers and must be flowed down to suppliers that have achieved ITAR registration for their facilities.
An AVL includes suppliers and vendors that have met specific quality standards and criteria. Maintaining an active AVL entails careful initial supplier evaluation, ongoing rigorous supplier screening and periodic audits. Sourcing from approved vendors ensure that materials, components and services received from these vendors consistently meet quality requirements. This is vital for product reliability and customer satisfaction.
Approved vendors need to demonstrate a track record of delivering consistent and reliable products or services. This consistency is crucial for maintaining product consistency and minimizing defects or variations. An AVL helps mitigate risks associated with supplier disruptions. By having a list of trusted vendors, one can quickly source critical materials or services in the event of supply chain disruptions caused by natural disasters, geopolitical issues or other unforeseen events.
Selecting the right supplier is crucial for the success and sustainability of any business. Once a vendor has been identified that carries the materials that are needed, or can supply the services required, there are still many other factors to consider, beyond pricing and costs, before adding them to one's AVL. What specifications and standards are used by the vendor and how do they monitor quality? Ask about their certifications and regulatory compliance to ensure that their quality program is in line with your expectations. Financial stability is as important as experience and reputation, especially on long-term programs that may be around 10+ years. Sometimes, a vendor may be grandfathered in, particularly when moving a program from consigned to turnkey, but it's still important to validate the suppliers against your own approval process.
In addition, building strong relationships with approved vendors can lead to better collaboration, increased responsiveness, and a deeper understanding of your organization's needs. This can result in improved product customization and support. Good buyer-supplier relationship is crucial for materials, equipment manufacturers and service providers and subcontractors to your business.
Maintaining an approved vendor list is a fundamental practice for organizations that prioritize quality, reliability, compliance and operational efficiency. It not only ensures that you work with trusted suppliers, but it also helps mitigate risks, control costs and enhance customer satisfaction. In short, having a strong, well-maintained AVL is a cornerstone of effective supply-chain and vendor-relationship management.