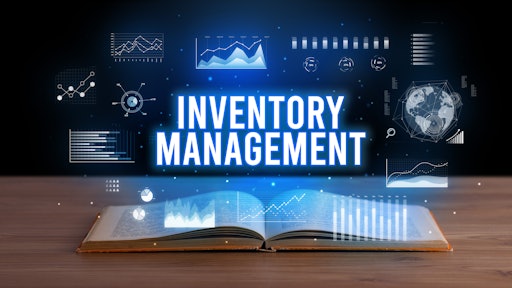 ra2studio/stock.adobe.com
Manufacturers continue to meet roadblocks with supply chain disruptions, the labor shortage, and ongoing inflation. Inventory management is a specific area for concern, where external challenges are continually causing headaches. Inflation-related price volatility makes projections harder to accurately represent, thus impacting inventory carrying costs and overall profitability for manufacturers.
Manufacturers are too often forced to combat critical component shortages with inefficient responses. They may choose to maintain higher levels of safety stock to mitigate potential stockouts, but this lacks reliability and can result in needless additional stock. Limited quantities of specific materials delay and impact the ability to meet customer deadlines, which threatens production. The labor shortage isn't making anything easier, and likely won't anytime soon. Deloitte predicts that 2.1 million manufacturing jobs will remain unfilled in the U.S. by 2030. This gulf of available staff means reduced production capacity, longer lead times, and challenges in meeting production schedules. Manufacturers need a solution, as efficient warehouse and inventory management continues to feel harder to achieve.
Software Solutions Answer Inventory Management Questions
As market disturbances carry on, it's clear that manufacturers understand a pen and paper approach is no longer sustainable. Turning to technologies such as cloud-based enterprise resource planning (ERP) solutions can provide a lifeline. These solutions bring high-level intelligence to maintain the profitable balance of stock parts and supplies. With the capability to factor complex variables such as available space, insurance, and interest on borrowed funds, a cloud-based ERP with inventory management means reaching peak efficiency. Not only does this mean less warehouse labor and costs, but it also ensures consistent on-time deliveries through efficient order management and maximized space usage, which ultimately means an improved cash flow. Simply put, this turns inventory management from a challenge to a competitive advantage. It's important to evaluate options carefully, and make sure to avoid some of the common pitfalls that come with high costs in an already expensive environment.
7 Inventory Management Mistakes a Cloud-Based ERP Solution Can Address:
Holding excess stock
This has often been a consequence of the turbulence and delays in the supply chain – a business will intentionally hold excess stock as they do not have visibility of materials in the supply chain. Without a software that provides this transparency, businesses often reorder materials too early or in higher quantities than necessary.
Overabundance of manual processes
Many manufacturers still operate with obsolete software or worse, spreadsheets to manage their inventory. A massive amount of time is wasted on repetitive and manual data entry, not to mention the associated paperwork and errors. Now more than ever, manufacturers need to be efficient with their labor that is in short supply. For Graceland Fruit, adopting new and innovative ERP meant that reports are generated in 1.7 seconds, whereas, with their older ERP, it took two minutes. This time save can make a crucial impact.
Lack of training
Many inventory management software packages come from vendors that do not offer virtual or in-person training or online resources to help employees get up to speed. A lack of integration with business functions like accounting can remove transparency and add data entry. With time and money both being of the utmost importance, companies cannot afford the time it takes to learn complicated software, train their own employees, solve problems with integration and figure out what went wrong when mistakes ultimately arise.
Inaccurate ordering
Once-a-year inventory audits help keep track of items but would be costly to do every month with limited staff, even with the assumption they get everything exactly right. You cannot rely on stock quantities that are derived this way. Without transparency of your inventory, it's easy to tie up cash by ordering parts that are not needed or to have on hold if you run out of stock. Further down the line, this impacts overall timeline for delivery, service, and installation.
Lost inventory
Without a real-time, accurate count - parts and supplies are bound to be lost. Whether a part was used as an extra on a job, or it "fell off the truck," your insight into the true cost of jobs and inventory is inevitably skewed. With margins tightening, these true costs must be as accurate as they can be.
No performance analysis
Not having fill rates and inventory turns for all stock, at all locations including trucks, directly translates to lost profits. It's vital to know when orders are coming in and when they're going out.
Lack of data transparency
At the core of each issue lies a lack of transparency. Without that accuracy, job costing can be way off. In today's competitive environment, you must be able to anticipate – not simply respond to – customer demand. By embracing software innovation, your business can hone in on ROI and establish competitive advantage.
Avoiding Mistakes, Investing in Technology
By addressing inventory management oversight through a cloud-based ERP solution, manufacturers can strengthen their competitive advantage amidst external turbulence and position themselves now and for the future. In short, transparency is vital. With inflation continuing to pose problems, it can seem like an unwise time to invest, but failing to differentiate and innovate can be far riskier. Inventory management rooted in cloud-based solutions offer a clear path to efficiency.