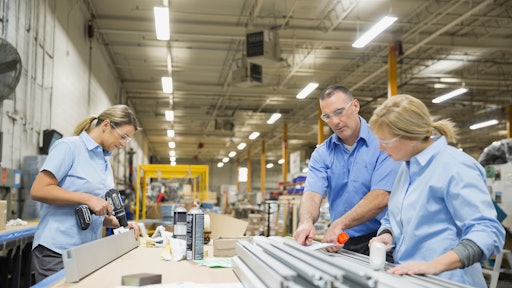 heroimages/adobe.stock.com
Demand was up in 2022, but the ongoing labor shortage made it harder to fulfill orders. To fill the gap, manufacturers had to recruit workers from competitors and other industries like hospitality, restaurants and major retailers mostly by offering higher wages.
Inflation and rising wages pinched profits. In mid-October, Social Security announced an 8.7% cost-of-living adjustment which is more than double what was predicted six months ago, sending an irrefutable signal that higher prices are going to stick around.
Supply chain struggles continued but weren't as extreme as they were in 2021. Manufacturers became nimble and found creative ways to restock and stockpile supply and many companies expanded their raw materials network to include contingency suppliers. Reshoring also continued. Companies opted to get materials from domestic partners faster rather than cheaper.
From a tax policy perspective, there's good news and bad news. This time last year, manufacturers were concerned that Congress would be increasing federal income tax on the manufacturing sector. Income tax increases resulting from new tax bills never materialized but expiring provisions from the Tax Cuts and Jobs Act (TCJA) could result in a federal income tax increase for manufacturers absent Congressional action. Federal excise taxes for the chemical and resin sectors were reinstated in July 2022 that haven't been in place since the mid-90s.
How do manufacturers flip the balance on good news/bad news and design a more favorable 2023? Here are 6 strategic priorities from tax policy to Industry 4.0 that manufacturing leaders must take in order to tip the scales.
1. Get your tax house in order
3 of the expiring TCJA provisions should be top of mind for manufacturers as they wrap tax year 2022 and they are research expense provisions, bonus depreciation and interest expense limitations.
Without congressional action, taxpayers must begin capitalizing their research expenditures in 2022. The amortization period is either 5 or 15 years, depending on whether the research occurs in the United States.
Bonus depreciation begins to sunset in 2023, with tax year 2022 the last year for 100% bonus depreciation under current law. Manufacturers may find their interest expense limited based on a formula change taking effect this year.
If using the chemicals or resins subject to the reinvigorated superfund excise taxes, manufacturers should obtain a clear understanding of the downstream effects.
All of this is happening under the purview of a more-resourced IRS. The IRS budget was expanded substantially, so there may be more agents available to examine filings and returns. As a result, it's time to dust off and review your methods of accounting to ensure you're reporting income and expenses in the correct period.
Calculate the impacts of potential tax changes so you know exactly how to respond before policies go into effect. Tax liabilities may cause you to rethink your supply chain or reschedule capital projects.
2. Buy for growth
Tax changes, like the deduction in bonus depreciation will impact capital improvement decisions. Manufacturers that have access to capital will invest threefold in new plants, in new machinery and in automation.
High interest rates and inflation could derail expansion and innovation plans for some firms. Review capital expenditure plans now and secure affordable funding so you can grow and maintain plants and facilities.
3. Expand Industry 4.0
Since technology and implementation costs are becoming more affordable, most manufacturers can afford the tools to gather data in real-time. Collecting the information was only step one, next managers need to learn how to apply data toward operational decisions.
Downtime and waste have always been issues for manufacturers. Now that labor and material costs are so high, making the right decision is critical. Manufacturers need good, quality data to help them identify their biggest pain points, prioritize opportunities and develop strategies to maximize throughput.
Manufacturers have to drive costs out of processes and ease their reliance on human labor. Technologies that improve performance and increase long-run automation can help manufacturers stay nimble and efficient.
4. Reprioritize key performance indicators (KPIs)
Higher demand doesn't always turn into higher profits. And KPIs like top-line growth can be distorted by macroeconomic factors such as inflation.
Growth at all costs will kill you right now. Revisit the scorecard and reshuffle priorities to focus on metrics that are meaningful and informative in the current conditions. Use margin growth rather than top-line growth to measure success. If you can grow margins and control costs, you'll be in a better financial position and possibly able to withstand inflationary pressures.
A different focus on KPIs may lead to alternate strategies. Companies that re-shored supply chains to gain stability might be pressured to switch to lower-costs options, if it's the only way to retain some margin.
With more information about what's important, you can make better decisions.
5. Review and enact contracts
This is a good time to review and familiarize yourself with customer agreements and contracts. Make sure you're getting compensated if projects creep out of scope or incur ancillary costs. Your contract may allow you to pass along higher material costs to customers. Make sure to leverage all of the tools and avenues your contracts allow.
6. Invest in your workforce
The labor shortage is plaguing every industry. If you don't take care of your workforce, someone else will. It's unusual to have such a tight labor market amidst recessionary conditions. Which is the reason manufacturers need to unleash their creative to overcome the worker crisis.
Another reason to pursue technology and automation is human resource constraints although this cannot be a replacement for people. Instead, leverage technology to make the employee experience better, more productive and more efficient. Use all the tools at your disposal such as technology, wages, and recognition to attract, retain and develop workers.