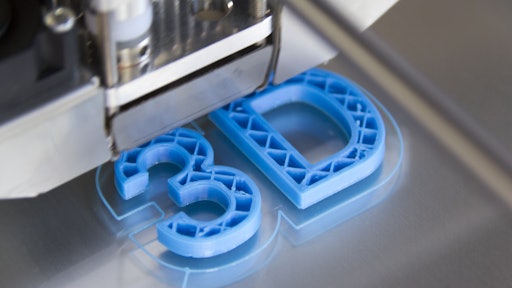 AdobeStock_137317687
Companies have been at the whim of the fragile global supply chain during the Coronavirus disease (COVID-19) pandemic, which has led to unprecedented delays in shipments worldwide. During this time, 3D printing has proven itself as an innovative solution to help manufacturers regain their autonomy. At the same time, it has introduced a profound new mechanism of manufacturing that is bringing production closer to end users.
With supply shortages up 638% in the first half of 2021, according to data from Resilinc, it has never been more important for companies to reevaluate how they're making products. North America experienced the most disruptions during the study period, as companies waited for freight imports from Europe and Asia. As late as early October, many dozens of cargo ships were stuck off the southern coast of California as the port faced delays tied to the coronavirus pandemic that has led to labor shortages. And, in Chicago during the summer, supply chain bottlenecks caused massive backups for imports arriving from the coasts via train.
Metal 3D printing as a viable alternative
Over the past two years, additive manufacturing – or the layering of materials on one another to create a product in a machine – has emerged as an attractive alternative due to its unique ability to manufacture "on demand." These industrial machines are helping to return production back to the United States, so that companies can regain control of their manufacturing processes.
Metal printing in particular has become more ubiquitous and affordable because of some metal 3D printers that allow it to achieve high-volume, repeatable and automated production for 3D-printed parts.
Manufacturing close to home
By manufacturing components closer to home, manufacturing can be distributed in localized facilities that OEMs can choose to use based on proximity to their own production facilities or end users. They can save time, money and return jobs from offshore sites. Whereas outsourcing parts components might have made sense in the past because of the affordability that comes with using cheap offshore labor and freight, it's now an impediment to a company's bottom line. A report from Bank of America said COVID-19 has left the global supply chain in "disarray," noting a supply chain "is only as strong as its weakest link." The researcher said there remains a "strong case" for "diversification/localization of supply chains."
With localized metal printing, companies can take advantage of new technologies to compete on time and cost. Many companies are offsetting supply chain damages by passing the costs onto consumers. But, what if a company could negate those problems by detaching from the weak link?
On-demand additive manufacturing can be particularly attractive to OEMs that require metal parts because they can print spare or exotic parts when needed and on demand -- leading to additional cost savings through the elimination or reduction of storage. Hundreds of millions of spare parts of products as diverse as cars to watches and x-ray machines are stuck in storage around the world at any given time, according to data from DHL. Some experts estimate that excess inventory can cost distributors 25% a year. Being able to tap a reliable 3D printing source means that an OEM can nix the excess storage and produce spare or unusual parts only when they're called up to bat.
In a 2014 report, MIT researchers predicted that 3D printing had the potential to cut total supply chain costs by 50-90%, with the biggest savings coming from transportation costs as companies shifted production locally. The only hold out, they suggested at the time, was that 3D printing was slower and therefore better suited for low-volume production. However, that hypothesis has shifted in recent years as technologies have improved, ushering in a new era of high-volume 3D printing.
As COVID-19 aftershocks rattle global markets and supply chains, companies are being incentivized to evaluate alternatives to gain competitive advantages. It's unclear how long the effects of the pandemic will wreak havoc on the industrial world, but 3D printing is serving as a lifeline in a sea of uncertainty.