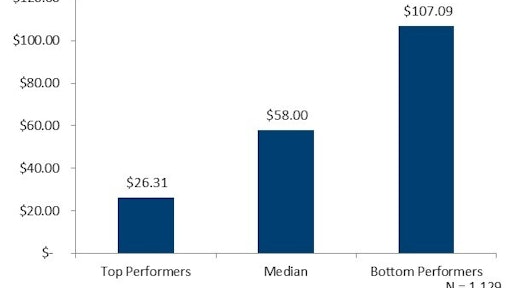 Supply chain planning can impact the cost of the entire supply chain. When evaluating a supply chain planning strategy, it is important to look at total supply chain management costs. APQC's Open Standards Benchmarking data in supply chain planning shows that there is a significant difference between top performers ($26.31) and bottom performers ($107.09) regarding the total supply chain management costs per $1,000 in revenue. For an organization with $5 billion in annual revenue, this difference means the possibility of $403.9 million in extra supply chain costs per year.
In addition, APQC's research has found that defining a strategy and roadmap for an organization's supply chain efforts for the next two to three years can yield benefits. Organizations that take this on to a greater extent have lower supply chain management costs despite needing more FTEs to plan for and align their supply chain resources than organizations that define their strategy to little or no extent. By taking the time to set their strategic course, organizations can perhaps identify and act on ways to lower their costs.
As the benefits of other internal cost-cutting efforts taper off, more organizations are beginning to understand that some of the biggest opportunities for operational efficiency and cost savings lie outside of the organization within the supply chain. Some organizations are developing closer relationships with suppliers, leading to innovative developments benefitting both parties.
Another trend is the outsourcing of some supply chain processes to other organizations. By focusing on what it does best, an organization engaging in outsourcing can streamline supply chain processes and reduce staffing costs associated with these processes.