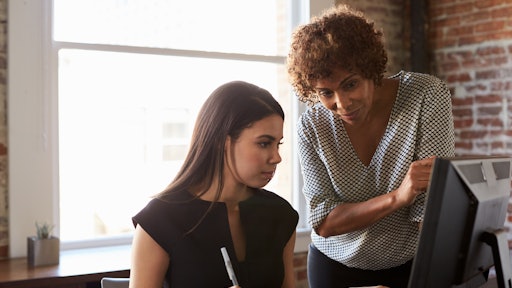 Monkey Business AdobeStock_132140360
Holly Tran, director of account management for ALOM, and Taylor Houser, account manager for ALOM, both winners of Supply & Demand Chain Executive's 2022 Women in Supply Chain award, talk about the ongoing challenge of balancing work and life, and finding a company that supports both all the time.
CLICK HERE to view the full list of 2022 Women in Supply Chain winners.
Supply & Demand Chain Executive: Tell me a little bit about yourself and your company.
Holly Tran: ALOM is a leading, woman-owned supply chain management firm. Our clients range from Fortune 500 companies to innovative, expanding brands. I've been with ALOM for nine years and have worked in the supply chain industry for more than 25 years. I lead the front-line account management team responsible for every ALOM client supply chain program around the world. Our client program support capacity increased by 60% in 2021, and I was responsible for recruiting and onboarding account management staff.
Taylor Houser: I've been with ALOM for four years, working on the account management team. I was lucky to stumble into a career in supply chain. I went to school for marketing but realized pretty quickly that I wanted to do something different. When I saw the job posting with ALOM, I thought it sounded interesting, even though I knew nothing about the industry. I'm so happy about my decision to join ALOM and to learn about supply chain. It's been great.
Supply & Demand Chain Executive: What attributes do you think a successful supply chain leader has?
Tran: You can't be successful in supply chain without having a thick skin and being able to speak up and stand your ground so you're not steamrolled.
Houser: Good supply chain leaders are driven, hardworking and committed. They need to be collaborative and good listeners too.
Supply & Demand Chain Executive: Are there any challenges that you have faced in the industry? How did you overcome them?
Tran: The current uncertainty surrounding inflation and geopolitical conflict is a challenge. The upside is that our customers have a new sense of urgency to collaborate and discuss strategies with us, so we can adapt to keep costs in check and inventory levels optimized.
An ongoing challenge for me is work-life balance. At different points in my career, I've been the sole caretaker for my ailing father and a single mother to my son. I wouldn't have been able to handle it if my employer hadn't been so flexible. That flexibility not only differentiates ALOM as an employer, but also as a supply chain management firm and the way we serve our customers.
Houser: Like everyone else in supply chain, the pandemic has been a huge challenge. When it started, I had been with ALOM for just a little over a year, and the uncertainty surrounding closures and shortages made things pretty crazy. We also onboarded several specialized and FDA-regulated test kit clients and programs in a matter of weeks, which was very challenging, but also incredibly important. Peak order volumes reached 1.5 million per week.
Supply & Demand Chain Executive: What is it like being a woman in a traditionally male-dominated industry?
Tran: I've worked for companies where I was one of only a few women, and I've worked for companies where I was one of many women. I prefer a diverse workplace like ALOM – that's where I am happiest. Because women account for such a large percentage of ALOM's workforce and leadership (women represent 50% of senior leadership), it doesn't feel like we're operating in a male-dominated environment.
Houser: My supply chain experience is exclusive to ALOM, and because it is woman-owned and 70% of the account management team at ALOM is female, my perspective is probably different from women who work at other organizations.
Supply & Demand Chain Executive: Why do you think more women should be involved in the industry? How can we recruit and retain more talented women?
Tran: Women are flexible and open-minded, which is so important in this industry because things are constantly changing. I think women are attracted to organizations that already employ a lot of women and have women in leadership positions. It sends a message that women are not only welcome, but that they're also important contributors who help determine the course of the organization. I would estimate that 80% of the people who interview for a position at ALOM say they're interested in joining the company because it's woman-owned and very diverse.
Houser: I agree. To be successful in supply chain, you have to be able to adapt, and women are experts at adapting. You don't often see women leading men – usually it's men leading women – and it's refreshing to see women in leadership positions because it signals that women have the same opportunities to shine.
Supply & Demand Chain Executive: What advice do you have for those first starting out in the industry?
Tran: Find a mentor who can give great advice and guidance so you can get to the next level in your career. Your mentor doesn't have to be an expert in your field, but it helps if they are.
Houser: Listen to the people around you – your team, your clients, your supervisors. That's the best way to learn the industry.
Supply & Demand Chain Executive: How does it feel to be named as one of Supply & Demand Chain Executive's Top Women in Supply Chain?
Tran: These women are doing some pretty outstanding things, and I'm honored to be recognized alongside them.
Houser: It feels amazing. I'm a bit awed to be in the company of such incredible women.