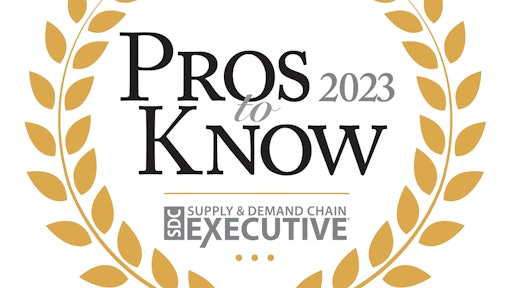 Are you or someone in your organization an outstanding leader reinventing what it means to be a supply chain professional? If so, then this award is for you!
Nominations are open for Supply & Demand Chain Executive's 2023 Pros to Know award, which recognizes outstanding executives whose accomplishments offer a roadmap for other leaders looking to leverage supply chain for competitive advantage.
Think professionals whose achievements and success stories have helped move the needle in the supply chain.
Think professionals who promote safety, sustainability and workforce development.
Think professionals who work toward helping heal the supply chain.
Supply & Demand Chain Executive reaches executives in procurement, warehousing, transportation, education and more. If your company or your customers are a part of this reach, then you are eligible!
The key to a winning submission???? Answer in complete sentences, provide as much detail and information as possible. There are no character or word count limits. Provide examples, be thorough, tell the story. Those submissions with little information or incomplete sentences generally do not win.
Deadline for submissions is Friday, Dec. 30, 2022.
ALL NOMINATIONS must be submitted electronically. CLICK HERE to access the nomination form.
CLICK HERE to view the criteria of this award.
And, CLICK HERE to preview the questionnaire.
For questions, please contact editor-in-chief Marina Mayer at [email protected] or associate editor Alexis Mizell-Pleasant at [email protected].
Check out previous winners here, including video interviews and more!