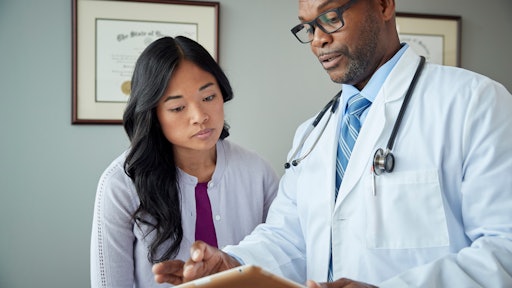 GregoryMiller/adobe.stock.com
Hospitals and health systems in the United States are looking for solutions to mitigate the financial impact of the pandemic while facing a potential recession. They are looking to the supply chain to play a pivotal role in that recovery. During the year ahead, expect to see the industry continue to automate and digitize supply chains to maximize cost savings and improve operational efficiency. As part of this journey, anticipate new levels of innovation and collaboration among all stakeholders as the industry looks to redesign when, where and how care is delivered, all while balancing financial and clinical outcomes.
Following are the two areas where the industry will embrace innovation and collaboration to boost efficiency and alleviate some of its ongoing financial pressures.
An evolving "healthcare ecosystem" will take root
Recent increases in patient volume and modest revenue gains haven't been enough to offset the impact of labor shortages and inflation. In addition, evolving reimbursement models and new resiliency requirements are pushing providers to carry a different inventory profile than they've had in the past.
One of the realizations from the last year is that healthcare's challenges – cost containment, supply chain resiliency – are shared. For the industry to thrive once more, it will need shared solutions. In the year ahead, expect to see more stakeholders embrace and nurture the concept of a healthcare ecosystem, one where partnerships facilitate the adoption of more innovative solutions to common challenges. For example, competing local health systems might come together to think about ways they can build more resilient supply chains for their shared communities through shared inventory or operationalizing the concept of a living stockpile.
In addition, suppliers and providers will deepen their relationships to extract more value from their solutions and services. This could be as simple as utilizing a vendor-managed inventory, or as involved as suppliers investing in an infrastructure beyond their own products that are used across a provider's particular service line.
There's strength in numbers. When suppliers and providers work together, and within those conversations, are forthcoming about the challenges they face, they are better able to discover new ways to resolve those challenges successfully and sustainably. As the concept of a healthcare ecosystem gains traction, leaders across the industry can follow a few best practices to build stronger partnerships:
Cultivate non-traditional relationships with prospective partners.
Create a culture of trust among key constituents, such as clinicians, supply chain operators and even supplier partners who may take on added risk to help providers. Trust drives higher levels of collaboration.
Take an iterative approach to work, building off the momentum of early wins to drive continued change.
Share data and analytics early and often, which is key to building trust.
More clinicians will lean into clinically integrated supply chain
In 2023, expect to see more clinicians taking an active role in advancing clinically integrated supply chains. The greater level of engagement is borne of financial necessity, in that clinicians understand the role they play in their organization's financial performance. At the same time, value-based care initiatives at organizations have generated quality supply chain data to make these conversations possible. As a result, supply chain teams are becoming more adept at having data-driven conversations with clinical teams as opposed to subjective conversations regarding product selection. Clinicians can trust the data and help steer decisions that will not only lead to better outcomes for their patients, but also aid in the organization's path to financial health.
In the face of extreme financial pressures, the healthcare industry must find ways to do more with less while never losing sight of the patient. In 2023, expect to see providers and suppliers accelerate the industry's digital transformation while taking collaborative steps to build a more resilient supply chain.